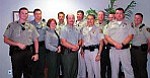 Originally Published: June 2, 2005 5 a.m.
Residents had the chance last Wednesday evening to meet members of the local law enforcement community and ask questions about their agencies and issues of concern.
Represented were the Grand Canyon National Park, Coconino County Sheriff's Office, Arizona Department of Public Safety and the Kaibab National Forest.
According to park Public Affairs Officer Maureen Oltrogge, the Park Service organized the event both to help introduce Sheriff Bill Pribil, who is in the beginning of his first term, to the community, as well as to give the community a chance to meet their law enforcement officials who are, in some cases, also their neighbors.
Though the agencies have a culture of cooperation that goes back many years, this was the first time a forum was organized to bring them together to meet the public.
"This is the first time we've ever done this," she said. "This is the first time we've had this many officers in a room at one time."
While officers of the law dominated the seating in a conference room at the Squire Inn last Wednesday, there was no shortage of questions from residents, who wanted to know things like how the agencies communicate with one another, how resources are dispatched and by whom, and what kinds of crime are most prevalent in the community.
A common theme throughout was the culture of cooperation that exists between the agencies, which manage a patchwork of jurisdictions and operate under various agreements and understandings.
"Whatever agency in the county, we back each other up," said Sheriff Bill Pribil, whose office is responsible for all unincorporated areas in the county. That responsibility overlaps with that of the DPS which patrols the roads and of Grand Canyon National Park and the Forest Service which are subject to federal law.
Grand Canyon National Park Chief Ranger Chris Pergiel said that while park rangers don't have the same jurisdiction outside the park as officers from the Sheriff's Office have inside its borders, the park does operate under a memorandum of understanding with the county that enables them to intervene if the county asks or if they perceive a dangerous situation.
"We don't have direct authority outside the park," he said. "We do have the authority to assist the county on emergency calls or if there is an imminent threat to health or safety. But we are not going to take action in absence of a county request or emergency situation."
He said that ideally, the rangers should be arriving as backup after county officers get there, but often because of proximity, the rangers get there first.
"In less ideal situations, we stabilize and when they get there, the case is totally turned over to the county," Pergiel said.
If Tusayan incorporates, he said that he expects such a relationship to continue with the town's officers.
"It would just mean modifying our memorandum of understanding with the agency," he said.
Pribil said that the agencies were also looking into certification of park rangers to authorize them to perform full county law enforcement duties.
"That issue has come up," he said. "It would afford the Park Service a little cover if they had the authority to support state law outside the park."
"We have textbook interagency cooperation here," said Tusayan Ranger District Fire Prevention Officer Bob Blasi. "It's almost like we're wearing the same uniform sometimes. When Jim Coffey got shot a few years ago, every agency with red lights and a firearm was out there looking for the guys who did it."
To work together, the agencies also have to be able to communicate. While each has its own frequencies, they monitor those of the others and all have the same county frequencies in common.
Pribil said that since 9-11, Homeland Security money has gone into interoperability.
Collins clarified how the park dispatch center operates and how 911 calls are routed. All calls from land lines with a 638 prefix go to the dispatch center, she said. Cell phone 911 calls are answered by the Sheriff's Department, which contracts with the Flagstaff Police Department to dispatch officers. DPS dispatches are handled out of Flagstaff as well.
While Tusayan Fire Chief Robbie Evans said that enhanced 911 is likely to arrive here in the next two years, Collins said that would have to be preceded by an effort to clearly identify and mark addresses for all structures in the area.
Currently, the only identifier park dispatch receives is the caller's telephone number. Collins said that they are urging residents to provide information ­ address, number of people in the home and any special medical considerations ­ that can go into a data base that can be cross referenced in case of an emergency call.
"It's slower than perfect, enhanced 911, but it does help," she said.
Residents wanted to know what crimes were most common. The officers agreed there was a mixture, with a lot of tourist-related crimes of opportunity like theft. They are called often to intervene in fights that break out between families on vacation and to address marijuana smoking in hotel rooms.
"People are here to have a good time. Add alcohol and the highway is ripe for DUI and a lot of other offenses," said Pribil. "This is obviously a major focus with DPS."
Much of the more serious crimes ­ assault and sexual assault, arson, and the infrequent homicide ­ are statistically more likely to be committed by residents
"People look at this as a resort and think that everything is fine, but you have to look at it like a small town with issues typical of a small town," said Pergiel. "There is a surprising number of sexual assaults but it's not out of the average. Most of it is an acquaintance on acquaintance situation."
As far as threats to highway safety, Department of Public Safety Lieutenant Jim Gerard said that on Highway 64, it was mainly the elk and deer who were "guilty of noncompliance" with 68 percent of accidents on the road attributable to animals.
The biggest kill zone is around the airport.
"If you look at the statistics, at (mileposts) 234 and 235, it spikes," he said.
Another big risk on the roads, according to DPS officer Shawn Shields, is people who haven't gotten enough sleep. "People have no concept of how far it is to drive from Vegas to here," he said. "It's a big problem for us."
Resident John Vail asked if any plans were in the works for passing lanes. Shields said that the Arizona Department of Transportation just awarded a contract to add lanes from the power lines north of Valle to milepost 220. That project is expected to begin in June.
While there has been discussion for at least a decade about making Highway 64 a divided four-lane highway, that has failed to move forward because of other priorities in the state.
"If you look at here and then at Phoenix and the freeways down there, that on the 101 there is a fatal almost every day, that kind of puts things into perspective when looking at improvement," said Girard.
Bryan asked what local businesses could do to help law enforcement do their job.
Blasi said that he would welcome an opportunity to speak at orientations for new employees "to enlighten and educate them on conduct and regulations in the forest. It helps me tremendously not to have to go out and pick up beer bottles on a regular basis."
New Deputy Robert Gambee said that if all employers conducted drug screening, it would address local drug problems.
"It's a big problem in town," he said. "Business owners have said that if they drug test, they're going to lose all their employees but if it's let go, it gets worse and worse."
Pergiel said that he invites business owners to communicate with him right away when they have concerns.
"If there is a problem, I prefer to hear about it immediately rather than letting it build and letting frustrations build over time," he said.
More like this story