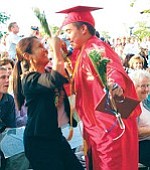 Originally Published: June 9, 2005 5 a.m.
Thirty-six high school seniors officially became graduates on Friday, May 27, at commencement exercises for Grand Canyon High School and Bright Angel Academy.
Also during the ceremony, 23 eighth-graders were promoted to high school.
After the Processional with music provided by the High School band, middle school valedictorian Chloe Phillips led the Pledge of Allegiance. Middle school salutatorian Arielle Schoblom called for a moment of silence and Grand Canyon Superintendent Sheila Breen welcomed the graduates, families and friends.
"I'm proud to be part of this district," she said.
She said that the class of 2005 had garnered $45,000 in local scholarship money and received $425,000 in scholarship offers from various schools.
High School salutatorian Julie Haughton spoke on the value of patience as she described the lessons she learned beginning with the excitement of receiving a saxophone, her discouragement at first of not being able to coax a note out of it and the journey to becoming a true musician.
"The easy way out is not the best way out," she said. "Do not rush your life. Be patient and your passion will find you."
Valedictorian Jenna Diaz-Gonzalez urged her fellow graduates to live an unforgettable life which, she said, should consist of "something to do, something to love and something to hope for."
What they should do, she said, is "live life to the fullest ­ and that is measured in memories." And, she added, as far as who to love they should turn to "the individuals who got us this far."
She said her peers already had a rich legacy in both regards, growing up in a small, close knit community, where, she said, if they did something wrong, they often arrived home to find out that their parents had already heard about it.
"It may annoy us but it's who we are," she said. "Our parents and families were always there for us. And not only our biological parents. We need to thank those were there for sports and as chaperones."
She said her own hope is tied up in her expectations for the class of 2005.
"I expect a lot out of this class because I know we rock," she said. "Thank you for an amazing 10 years at the Canyon."
Principal Bob Kelso introduced commencement speaker, kindergarten teacher Robin Ogg, citing many historic moments in 1981 ­ the advent of MTV, the appointment of Sandra Day O'Connor on the Supreme Court "and Robin Ogg came to Grand Canyon to be a kindergarten teacher." In her 23 years here, he said, she had the opportunity not only to watch many members of the class of 2005 grow, but also to take part in their lives.
"A kindergarten teacher gets a lot of hugs," said Kelso, "and she deserves every one of them."
An emotional Ogg said that she wanted to cry "as much as a parent because I'm am so very proud and humbled and honored to be a part of these kids' lives."
"I know these are young adults but it wasn't that long ago that Cody (Bettencourt) threw toys in my aquarium," she said.
She offered words of advice, urging the graduates, "keep an open mind, always be a student."
She advised them to monitor their behavior.
"Seek balance and make choices you can be proud of," she said. "Think of your children and what sort of standard they will have. Learn to say 'no' to them and practice on yourself."
She also advised them to be resilient and not to give up if life doesn't go as they expect and, she said, "most importantly, keep a positive attitude. Ten percent is what happens to us and 90 percent is how you deal with it."
She closed with a reading of Robert Fulghum's poem, "Everything I Needed to Know, I Learned in Kindergarten."
Graduation speaker was Maj. Gen. Tony Taguba, the Army officer who led the investigation into prisoner abuses at Abu Ghraib in Iraq and testified about their findings to Congress. Taguba, who is brother of residents Lita Ebersole and Evelyn Garcia, and uncle to graduating senior Cody Bettencourt, spoke on the importance of education.
After rousing the audience by leading them in the Army motivational cry of "a-uhgah!!" he reminded the graduates, "commencement is the act of beginning."
He commended those who had made a plan and advised those who hadn't to think about their aspirations and "to take charge of your plans for the future."
He said key to future success is "self discipline and tons and tons of commitment" and that "a good education brings many great fortunes."
To that end, he said, graduation did not mean the end of being educated.
"Learning is a lifelong process," he said. "Keep your mind and bodies engaged in learning. Do not compromise your education by sitting and doing nothing."
He told the students to consider their high school reunions.
"The test of time will tell," he said.
Before diplomas were handed out, School Board President Charles Wahler honored eight students who had maintained Grand Canyon Scholar status (a grade point average of 3.5 or above) for their entire high school career. These were Diaz-Gonzalez, Haughton, Danielle Bone, Josh Fuller, Nikki Harvey, Tiffany Monroe, Samantha Stickler and Daniel Vincent.
More like this story