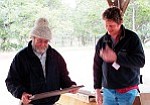 Originally Published: June 16, 2005 5 a.m.
Saturday's rain may have forced a change of venue for the Grand Canyon Historical Society's annual picnic but it didn't dampen the spirits of those who attended. Traditionally held at Shoshone Point, the picnic was moved to the Rec Center ramada, where members from throughout the state and beyond gathered to share their love of history, particularly as related to Grand Canyon.
The group also gave out its annual awards in recognition of those who have played a part in keeping Canyon history alive.
"That's what we're all about is history," said GCHS President Keith Green. "So many people have lived here. So many lives have been lived here. Do we want them to be forgotten?"
"We're the ones to take the responsibility to see that what happens here gets recorded in the right way," he said.
Todd Berger presented the Pioneer Award on behalf of the Grand Canyon Association. The award honors an individual who has made a significant contribution to understanding of the Grand Canyon and Colorado River. GCHS members submit nominations and a committee selects the winner. This year's committee was made up of Berger, Pam Frazier of the GCA and Xanterra historian Dennis Reason.
This year's winner was park trails archaeologist Mike Anderson. As a researcher and writer, he has published three books on Grand Canyon history, and led a Grand Canyon history symposium in 2002, with the results to be published by the GCA this fall.
"He is known to many members of the Historical Society," said Berger.
"I was hoping that someday I'd get this before I died," said Anderson.
It was especially gratifying after serving on the awards committee last year that selected photographer Gary Ladd for the honor.
"There are a lot of people who actually made history," Anderson said. "I just invent it by writing. But it's good to be in the same company with those people.
"This is the biggest plaque I have," he added.
Conveniently, after accepting his award, it was Anderson's turn to present the next awards ­ the Grand Canyon Hall of Fame awards for community service.
The GCHS has given two awards annually for the past eight years, selecting one living recipient and one deceased. Awardees are nominated by previous recipients and are distinguished by their noteworthy, long-term contributions of time, money and effort.
Previous recipients include Emery Kolb, Louis Schellbach, Ron Clayton, John G. "Jack" Verkamp, Betty E. Verkamp, Peggy Verkamp and Edwin D. McKee.
"These are folks that through their lives have been part of the history," Anderson said. "They're not historians that are writing about history ­ they are history and they've contributed to the betterment of the community."
This year, the award went to Kenneth G. Talakte, Reeta P. Talakte and the late Elmer Nelson.
The Talaktes were lauded for their many years in service to Grand Canyon. For the past 13 years, they have presented programs on citizenship and understanding of the flag and its etiquette, cleaning the Pioneer Cemetery and taking part in Memorial Day and Fourth of July celebrations. They also are responsible for a portion of Highway 64 through the Adopt A Highway program.
Ken was born on the Hopi Reservation and moved to the Canyon where he grew up and graduated from high school. He then served a tour in the Army in the 82nd Airborne Division. He returned and worked for 20 years as an officer in the Department of Public Safety, and upon retirement continued his service through the American Legion's John Ivens Post #42. He was post commander for the past four years while his wife Reeta served in the Legion Auxiliary Unit. Both are credited with providing essential support for area veterans including needed transportation to VA hospitals in Prescott and Phoenix.
"I'd like to thank the teachers and the coaches," said Ken. "We've been lucky. Thank God for teachers."
Elmer "Pop" Nelson came to Grand Canyon with the Santa Fe Railroad at the start of the last century to work on power and heating for the El Tovar. He held the position of facilities engineer from 1908 until his retirement in 1953. During that time, he served on the School Board, led the construction of a rodeo ground and sports field and was active in numerous community projects.
"We are indebted to folks like Elmer, Ken and Reeta, for helping to make the Grand Canyon community a better place to live and work," said Anderson.
More like this story