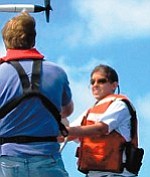 Originally Published: June 23, 2005 5 a.m.
For Grand Canyon Middle School teacher Rachel Dane, two weeks on a research vessel in the equatorial Pacific was not only a study in scientific discovery but a journey of self discovery as well.
Dane participated in the Teacher At Sea program sponsored by the National Oceanic and Atmospheric Administration (NOAA). The 12-year-old program has matched more than 360 teachers, most of them with backgrounds in science, with projects aboard NOAA's 15 research vessels.
Dane served on the Ka'imimoana, participating in research related to global warming. She was inspired and encouraged to apply for the program by Grand Canyon English teacher Jillian Worssom, who served 30 days aboard the Miller Freeman last July, assessing the health of the pollock population in the North Sea.
"I heard about it through Jillian," said Dane. "She had phenomenal things to say and she encouraged me to apply."
She started the process last November, seeking a December berth on a ship engaged in studying the ocean's role in global climate change ­ an area of great interest to her.
"My undergraduate degree is in biology with studies in marine chemistry and oceanology," Dane said. "So I had a huge buy-in to the research."
But because of her biology background, she was offered a position on the Ka'imimona instead, because along with researching climate change, she also had the opportunity to visit the Galapagos Islands.
She flew from Flagstaff on April 28 to Ecuador, then to the Galapagos Islands, where she spent three days. She returned to Arizona on May 13.
"It was a biologist's dream," she said of her time in the Galapagos. "This was Darwin's stomping ground. I had started hearing about him in seventh grade and read 'Origin of the Species' when I was a freshman in college. Here I was seeing these animals. I especially wanted to see the Galapagos tortoises. They are the famous grandfathers of the island."
After her too-brief stay on the islands, she and the crew of the Ka'imimona headed out to sea to collect data and make repairs on an extensive buoy array along the equator. In the log she kept during her time at sea, she noted that because growth on the underside of the buoys attracts fish, they are often damaged by fishing vessels that tie up to them. To make repairs or download data, researchers had to venture out in a small boat, then brave a layer of bird droppings to climb on the buoy. Guano notwithstanding, Dane said the experience of bobbing on the open sea was exhilarating ­ "like I had stepped into a completely foreign liquid universe," she wrote in her log.
It wasn't only the experience of not seeing land for 10 days that she found foreign. She was also fascinated by those aboard ­ the scientists, the crew and the officers ­ curious as to what motivated them to choose such an unusual way of life. She also took part in as many aspects as she could.
"On my days off, I painted and cleaned machinery," she said. "I worked with the deck crew and got a feel for how the whole ship worked. They were welcoming and kind. They were willing to invite me into their world. They were patient with my questions. It takes a unique individual to pursue that life."
She was also grateful to Worssom, who she said was "an amazing mentor," helping her to pack appropriately ­ "I would have overpacked," she said ­ and recommending a pressure point wrist band which Dane credits with keeping her relatively free of seasickness. She also learned from Worssam that those aboard the ship appreciated current reading material so she was able to bring them some magazines and newspapers. She also read Worssam's logs, which are still available at the NOAA Web site.
"I read her daily logs," she said. "I was aware of the expectations."
She also thanked the school administration.
"Kudos to them," she said. "Without them being so supportive, this wouldn't be possible. As a professional and an educator, this is the best thing that's happened in my teaching career. And the people who benefit are the students and the district."
For Dane, who worked as a scientist herself before making a career change to teaching the subject, it was satisfying to be back among people from that world.
"I was excited to be back in touch with the scientific community," she said. "I've felt isolated from them. This has been totally refreshing and invigorating."
She was also heartened to discover the depth and complexity of ongoing research into climate change and to learn that it is an international effort that includes partnerships with France and Japan.
"There's much more going on than I thought," she said. "I believe this is going to make a difference."
Teachers who take part in the program are required to write a curriculum based on what they've learned. Dane said that she plans to address global climate change, the marine environment and the impact that humans have on the ocean.
"I learned so much detail about the marine environment and I learned from experts in the field," she said. "I'm excited to bring it into the classroom."
"The entire experience was life changing, everything combined," she said. "The visit to the Galapagos and seeing the eco-system, being a part of that for a few days. Then being at sea and not seeing land for 10 days. It was surreal. It was vast and I I really had the opportunity for some introspection."