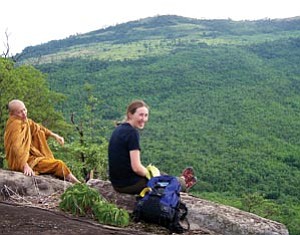 Originally Published: August 15, 2007 10:20 a.m.
When middle school science teacher Jesse Smith teaches about the rainforest this year, she'll be able to do it in the first person thanks to a summer-time educational opportunity through Miami University of Ohio's Earth Expeditions program.
"I think I can make it a lot more engaging," she said. "From the books or the videos or posters, it's all visual. What hit me the most was how much sound there was. In the middle of the forest, it's almost deafening, it's so loud. When you hear the noises, you have no idea what sort of animal it might be coming from."
Smith was one of about 20 teachers accepted into the graduate-level program, which includes two weeks in the field in one of several environmental "hot spots," as well as coursework both before and after the expedition. Applicants were considered based on essays describing their school and how they would integrate what they learn.
"It fit in really well with the MYP stuff," she said.
Smith's group traveled to Thailand, where Buddhist monks spread an influential culture of conservation and some preservation efforts have led to new challenges.
They spent the first week at Khao Yai National Park, where tourism is secondary to fighting poachers and managing pressures from settlement just outside park borders.
Presenters included Dr. Pilai Poonswad, a renowned bird conservationist leading an internationally-backed effort to bring back the hornbill.
"They tried a lot of different methods to try to bring back that population, and they found that community-based efforts worked best," Smith said of Dr. Pilai's message. "They work with poachers to find ways to make more money by protecting them."
The appeal to economy appears to be working in other ways as well, she said. One example was in how a local hospital transformed a community where farming practices had stripped the land.
By contracting with farmers to grow native medicinal plants, they encouraged sustainable practices and promised stability. At the same time, they encourage serious research of integration of western and traditional medicine.
"This was in an area where all of the local people were burning down their forest and planting cash crops," Smith said. "The hospital started this whole local industry in this province. There are 39 families with large plantations."
They spent the second week at a forest monastery where monks view conservation work as consistent with Buddhist beliefs.
"What I found really interesting is that in small communities, the conservation really isn't done by scientists or environmental organizations," she said. "There's this whole strand of monks - ecology monks or 'green' monks who lead a lot of the conservation efforts through forest monasteries."
Locally, the monks were addressing the fallout from more centralized efforts, such as working with people displaced from protected pieces of land, helping them to develop more sustainable lifestyles.
"This was actually leading to more destruction in the zone around it," Smith said. "Community-based efforts were aimed at these areas."
In another conflict, reminiscent of rancher-wolf issues in the west, farmers on the parks' perimeters have ongoing issues with elephants, who can destroy an entire crop in a night.
"They are trying to figure out a way to compensate farmers," Smith said. "It sounds like the wolf issues here."
Though the trip is over, Smith's course-work continues into December as she turns her experiences into engaging discussions for her students.
"The main thing they want is for us to bring inquiry into the classroom," she said. "I want to see where the kids really want to take it and what they can learn from their own questions."