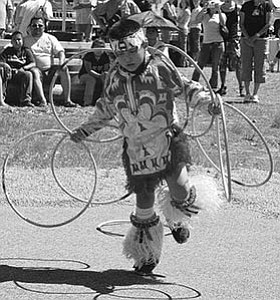 Originally Published: August 29, 2007 11:53 a.m.
If you're searching for a truly memorable and enjoyable schedule of events to fill the Labor Day weekend, look no further and place your mark on the Native American Art Show and Dances to be held Saturday through Monday, Sept. 1-3.
The Peshlakai family, which organizes the events, is inviting competitors and guests from far and wide to a cultural celebration featuring a hand drum contest, hoop dance contest, fry bread contest and Cowboys and Indians Musician Day. In addition to these central presentations, the artwork of silversmiths, jewelers, leatherworkers, beaders, musicians and more will be presented and available for purchase.
"We're sharing our culture with the people through song and dance," Diné elder James Peshlakai explained.
The celebrations will begin at sunup, Saturday, when artists and vendors fill the open lot on the east side of Highway 64 just south of the McDonald's in Tusayan. The unique works of art will be presented at 24 individual booths.
Following the registration of competitors, the hand drum contest will begin. Categories for men and women of appropriate ages will be designed according to registrants.
Peshlakai explained that a similar competition was held Memorial Day weekend during which competitors from Utah, Colorado, New Mexico, Arizona and beyond presented a wide variety of both traditional and contemporary songs.
"We had a 12-year-old Ute from Ignacio, Colo. who worked English words into his Ute song," Peshlakai said. "The grand prize-winner was from Cortez, Colo. This was an older gentleman who won.... Judging is based on originality and how he composed the song."
Peshlakai expects up to 20 participants this Saturday with the event open to individuals, duets, trios and quartets. Participants in each of the weekend's competitions will be served earth oven roast beef meals prepared by the Peshlakai family, as well as free vending space to sell their music.
Winners will also receive cash prizes.
On Sunday, the hoop dance competition will be featured including categories for tiny tots, juniors (ages 6-12), teens (13-18), adults (19-55), and seniors (over 55). Peshlakai remembered the well-attended competitions held during Labor Day weekend 2006.
"Last year was outstanding and the grand prize-winner came from Canada with his family," he said.
Winners will receive cash prizes as well as silver overlay trophy buckles.
"Businesses in the area donated so we could provide these. We've been greatly supported by local business, because it's a local attraction," Peshlakai said.
On Monday, a curious twist of events will occur when nationally known musician Clarence Clearwater hosts the Cowboys and Indians Musician Day and the Peshlakai family hosts the bi-annual fry bread contest.
"We'll have a Wild West gunfight, and I'm not gonna fight fair this year," Peshlakai jeered.
All fry bread chefs must supply their own secret ingredients and preparation materials including bowls and outdoor ovens.
Peshlakai said all competitors are welcome to participate in each and every event.
Through the weekend, festival supporters will be honored including the Thurston family-owners of the property where the weekend market occurs, and Arizona Postmaster Michelle Hart, who will be recognized as the guest of honor.
Hart's recognition will honor the U.S. Postal Service's establishment of a cancellation stamp in memory of the Peshlakai's son, Sonny. Sonny was one of the most outstanding hoop dancers in northern Arizona and brought the art and tradition to people throughout the world.
He was integral in building the success of the Native American Art Show and Dances in Tusayan and was the reason for establishing the Peshlakai Cultural Foundation. This body is composed exclusively of Native board members, which is now active in maintaining traditional cultures of the Southwest.
"This foundation wasn't just in Sonny's memory, but to look at what he did and what was important to him," said Jamescita Peshlakai, Sonny's sister.
For more information about the events call (928) 856-0717 or (928) 606-4998; or visit www.peshlakai.org.