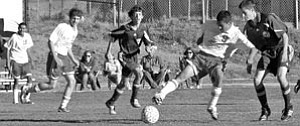 Originally Published: October 24, 2007 10:18 a.m.
The Phantoms soccer team finished the season on a high note, earning a hard-fought 5-3 win against Northland Prep last Friday. It was a treat for spectators as well, with perfect October weather and an evenly-matched, though not always graceful, contest on the field. This kept the goal tenders busy, with Grand Canyon's John Kissner counting at least 15 saves.
Cuco Jaime scored three for the Phantoms, one unassisted, and the others with assists by Johnny Pintor and Temo Galacia. Galacia also scored one with the assist by Daniel Trenchard. Cruz Caballero also scored, with the assist by Jaime.
"We ended on a good note," said Head Coach Tom Bruno. "The captains really led this team in all aspects of the game. They made this team a team."
More like this story