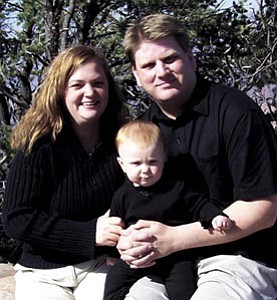 Originally Published: October 31, 2007 10:04 a.m.
As new co-pastors for the Grand Canyon Assembly of God Church, Brian and Debbie Fulthorp are looking forward to rebuilding a congregation that's been in transition and reaching out to the international community.
They were installed on Oct. 7 for a three-year posting. Both hold masters of divinity degrees from the Assemblies of God Theological Seminary in Missouri, where they met in 2003 and married the next year.
They moved to Glendale about a year ago to be closer to Brian's brother, who was diagnosed with an inoperable brain tumor, and other family. Since then, they've had what Debbie calls a "transitional year" - working, being there for their family and having a baby, Mercy, born Jan. 10.
They learned about the Grand Canyon opening last summer from the denomination's district office. Though classified as a mission reaching out to a diverse and transient population, the posting includes pastoral responsibilities as well for a congregation that currently numbers about 10. While they felt confident in their calling to mission work, the Fulthorps said they had to give some prayer and thought to a pastorate.
This ministry differs from those they've been part of in the past in that the church environment is more casual.
"When we were in Glendale you could be yourself to a certain extent, but you had to present yourself in a certain way," Debbie said. "People come here to get away, be restored and rehabilitated."
Many also find the Canyon to be a spiritual experience, something Brian said they hope to facilitate.
Their vision is one of "servant evangelism," said Debbie.
"We want people to know that we want to be here for them," Brian said. "We want to serve the people of the Canyon, whether they be residents or seasonal employees or tourists, in any way that will be beneficial to them."
Assemblies of God is evangelical in their beliefs, with more than 12 million members worldwide. They formed out of the Pentecostal movement of the early 1900s and still continue in that tradition. They practice an exuberant worship style and hold to the belief that the power displayed in the gospels is still available to believers today.
"One thing we want people to know is that we are a protestant church," said Brian. "We may not be as well known as the Baptists or the Congregational or Presbyterian or other well-known churches."
More like this story