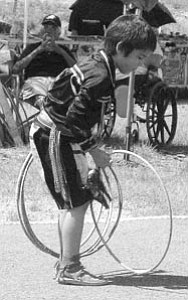 Originally Published: September 12, 2007 10:27 a.m.
In its seventh year of presenting Native cultures and fun, the Seventh Annual Grand Canyon south Rim Native American Art Show and Dances was deemed a success.
According to event organizer James Peshlakai, the Labor Day Weekend celebrations drew approximately 1,000 visitors Saturday, and 3,500 per day on Sunday and Monday.
Saturday was highlighted by a Hand Drum Contest with Gloria Begay (Diné) a teacher from Tuba City taking first place and earning $300.
"We didn't have too many people show up for the Hand Drum Contest because there were so many other things going on. The Hopi's Butterfly Dance was happening and people couldn't get here in time," Peshlakai said. "I really wanted to highlight the hand drummers, but it was still good."
On Sunday, the crowds rushed in to witness the spectacular Hoop Dance Contest, which, according to Peshlakai, was incredible.
Each of the winners received cash prizes and silver and gold buckles designed by silversmith Justin Morris, who, with his wife Irene, was awarded the Arizona Small Business of the Year Award in 2005. The Morrises are regulars at the Art Show and Dances and travel all over the world to showcase their fine art.
When the Hoop Dance Competition began, the Junior Boys Competition went to Talon Duncan (San Carlos Apache/Mandan) from Mesa. The Teen Boys Competition was awarded to Jonathan Yazzie (Diné) of Leupp.
In the Adult Men's Competition the first place Award was given to world champion hoop dancer Derrick Davis (Hopi/Choctaw) of Hotevilla.
Tony Duncan (San Carlos Apache/Mandan) of Mesa was presented with the second place Award and Brandon Guthrie of Salt Lake City, Utah, took the third place Award.
In the Adult Women Competitions, Violet John (Cree), of Kehewin, Alberta, Canada took first place.
In the Senior Men's Competition, Louis Tenfel-shonie, (Diné), of Piñon took first.
To decide the position of Grand Champion, Violet John and Derrick Davis, who ended in a tie, performed a dance-off where each performed for one minute with only one hoop.
"So it was that one hoop that broke the tie," Peshlakai said. "Oh, it was so, so...everyone was sitting on the edge of their seats and, yes, it was so suspenseful."
In the end, John took the title due to her beauty and grace, Davis took second and Talon Duncan took third.
On Monday a unique presentation of musicians and Wild West fun was staged during Cowboys and Indians Day.
The events were coordinated by Clarence Clearwater (Diné) who now performs for the Grand Canyon Railway.
With him were five other cowboy singers and even James Bilagody, a well-known guitarist and singer. Others who added to the breadth of entertainment included Tony Duncan and Estan Baa Band, and Louis Tenfel-Shonie on flute.
"The Cateract Gang and their women had gun fights and the carrying ons'," Peshlakai said.
Also on Monday the Fry Bread Contest took place with Kathie Kaya (Diné) of Tuba City taking first place and $300; Kathleah Sonny (Diné/Hopi) of Flagstaff taking second place and $200.
Sheadine Kaya, (Diné) of Tuba City took third place and $100.
"We got a lot of support from the local businesses and we want to say thanks to all our sponsors," Peshlakai said.
These included Café Tusayan, Red Feather Lodge, McDonald's, Grand Canyon Quality Inn, We Cook Pizza, IMAX Theater, Holiday Inn Express and the Best Western Squire Inn.
"We had Earth-oven roast beef that was donated by Cindy and Tillaman Paedock and I did the cooking.Oh, boy! We had a lot of fun," he added.
For the next four weekends from sunup to sundown the Native American Art Show and Dances will be held in Tusayan with at least 24 vendors displaying their work.
Exhibition Dances will also be featured.
For more information about the history of the Peshlakai family's Native American Art Show and Dances visit www.peshlakai.org or call 928-856-0717 or 928-606-4998.
More like this story