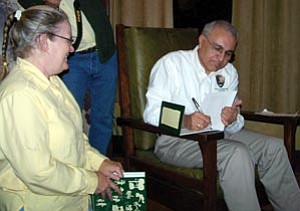 Originally Published: September 26, 2007 10:14 a.m.
After nearly three decades in the National Park Service, outgoing Albright Training Center Superintendent Constantine Dillon has a host of stories to tell. But there's one, from early in his career as an interpretive ranger at Carlsbad Caverns, N.M., that rises to the top. It's one that he frequently shares with new NPS employees that come through Albright's Fundamentals course, and the one he chose to submit for a recently-released compilation of stories called "Oh, Ranger!"
Called "The Last Walk," it's about a series of encounters that he had with a family one day. Running into them twice, he essentially did his job - helping them better understand and appreciate the cavern that they were experiencing. When he saw them a third time, they took the opportunity to thank him for helping them see things they'd never seen in previous visits to the park.
As he said in the story, that would have been enough to make his day. But the father wasn't finished. What he said next turned out to drive home a truth that has informed the rest of Dillon's Park Service career.
The man told him that due to a medical condition, he was facing the amputation of both legs. That walk was the last he would ever take through Carlsbad Cavern.
"That story had a big impact in my life and career because it really brought home how much of an effect we can have on visitors without even knowing it," Dillon said. "As park rangers, we can enhance their experience, or if we're not careful we can really ruin it. If you're not attuned to what it's like to be a visitor and the emotions they bring with them, you can really spoil what could be a significant life experience for them. This was an example where someone was having a life experience and I had no idea."
While that experience may have driven the point completely home, from his earliest days in his first career position at Independence National Historical Park in Pennsylvania, and later on, at places like Gettysburg and here at Grand Canyon where he frequently served as a guest instructor at Albright, he saw that Americans have special regard for their national parks.
"Having worked at Independence Hall, where the Constitution was written and the Declaration of Independence was debated or Gettysburg, those are emotional places," he said. "At Independence Hall, people would break into spontaneous prayer. They would kneel. They would break into song. It really showed the power of emotion in some of these iconic parks. To some people standing on the rim of Grand Canyon or the edge of a glacier in Alaska is going to evoke strong emotions."
It's the meaningful work - or as he puts it, the privilege - of protecting these places, and helping visitors better understand them, that kept him with the Park Service even as he found early success as a filmmaker. While his first feature movie, 1978's "Attack of the Killer Tomatoes," became a cult classic that spawned three sequels and a cartoon series, he continued to move up through the NPS ranks, with full-time assignments at 13 national park units and special details at more than 35 other parks, both in the U.S. and internationally, as well as in Washington, D.C., where he spent much of the last year serving as Acting Chief of Training for the Park Service.
He also continues to write and produce films, including the feature film "Happy Hour," and has ownership in a production company.
Today, he leaves the top job at Albright Training Center for his third park superintendent position, at Indiana Dunes National Lakeshore on the southern border of Lake Michigan. He will be accompanied by wife Ellen and daughter Alyssa.
The 15,000-acre park, which includes 15 miles of shoreline, wetlands, a living history farm and residential and day educational programs for youngsters, attracts 2 million visitors a year. Dillon said there are some familiar resource issues. This is his fifth park with a shoreline and beaches, and one of the most pressing problems is deer overpopulation - "not too dissimilar," he said, to what he faced as superintendent at Fire Island National Seashore, where he worked with the Humane Society and university partners to develop a contraceptive program targeting does that is still operating today.
The active youth based programs recall those that he operated in Gettysburg and Santa Monica Mountains National Park in California, and keep him connected to the educational focus that has marked his NPS career since his first career post.
"Really early in my career, I think my first job at Independence National Historic Park, I was asked to start teaching things to other employees," he said. "My supervisor recognized I had some teaching ability and after a few years I was placed on an interpretive skills training team. A number of these teams went around teaching interpretation to others. That's when I learned I liked teaching."
In 1984, he began to visit Albright as a guest instructor, teaching the Ranger Skills course that preceded the five-part Fundamentals program offered now. He said he applied twice as a full-time instructor but was passed over. When the superintendent job opened for the first time since 1978, he applied for that and got it.
"I'd done training for 20 years," he said. "I knew Fundamentals was going to be launched and I wanted to be a part of that."
In addition to ushering in the new program, which has already taught basic skills and an overview of the Park Service mission and values to more than 2,200 students since it began, he also sought to make the training more professional. In partnership with the Eppley Institute for Parks and Public Lands, based at Indiana University, attendees now get continuing education certification and next year, some classes will offer college credit.
"It's not that instructors weren't professional," Dillon said. "They've always been professional but we didn't have any accreditation to give out credits like that in the past."
He also helped develop free, Web-based training to help the public become more familiar with the philosophy and workings of their national parks. It's attracted thousands of visitors since the site, parktraining.org, was launched, ranging from the general public, to people interested in a Park Service career, to teachers who can earn continuing education credits.
During his tenure, he also oversaw the first major renovation of the center since it was built in 1963. The project not only corrected a host of code and structural issues; it also introduced the latest available technology to help facilitate the center's programs.
While he is leaving Albright, Dillon will still have a role in shaping the future of instruction for NPS employees through his work on a team that spent the past year comprehensively reviewing training. They will present a report to Park Service director Mary Bomar next month.
"How the training program is going to go forward will make some differences here," he said. "I just can't say what they're going to be."
More like this story