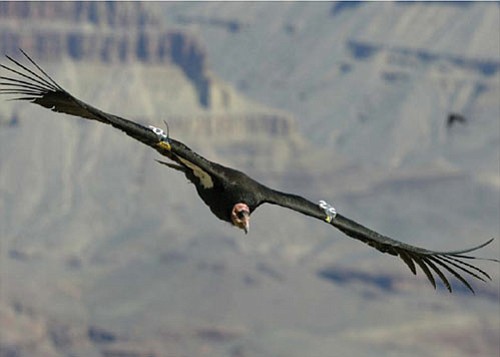 Originally Published: August 27, 2008 11:54 a.m.
Meet Sophie Osborn, author of the award-winning "Condors in Canyon Country," on Thursday, Sept. 4, at 7:30 p.m. at the Shrine of the Ages. She will speak and sign copies of her book.
On Friday, Sept. 5, she will be at Mountain Sports Downtown on 24 North San Francisco St. in Flagstaff for a book signing from 6-8 p.m. That event is also a fund-raiser for the Grand Canyon Wildlands Council.
Osborn is a wildlife biologist and writer who served as the field manager for the California Condor Restoration Project in Arizona for three and a half years. She was involved with condor restoration at a critical juncture in the program's history, documenting the first egg laid in the wild by captive-reared condors and the first chick to fledge in the wild in 21 years.
Ten thousand years ago, the California condor soared and foraged throughout the Southwest, but, due to environmental factors amplified by persecution, the majestic condor vanished from Canyon Country. Last seen in northern Arizona in 1924, the California condor drifted toward extinction. In the early 1980s, scientists documented only 22 condors remaining in the wild, all in California. Thanks to a successful captive-breeding program, condor numbers have increased dramatically and dozens now fly free over northern Arizona and southern Utah.
Osborn's groundbreaking, award-winning book tells the tragic but hopeful story of the condors of the Grand Canyon region. A talented, passionate storyteller, Osborn's in-depth, intimate narrative guides the reader along the continuing struggle to protecting the species. Even now, the condor faces serious threats to its survival. The book's exquisite photographs of magnificent, huge birds flying free over the Southwest's breathtaking landscapes remind us of the immense importance of full recovery of this remarkable creature.
"Condors in Canyon Country" won the 2007 National Outdoor Book Award, a 2007 Southwest Book Award and a 2008 Arizona Book Award.
Prior to working with condors, Osborn received her master's degree in organismal biology and ecology at the University of Montana, where she studied American dippers, North America's only aquatic songbird. She has spent close to 20 years researching, conserving and protecting more than a dozen bird species and other wildlife, both nationally and internationally. She contributed to efforts to reintroduce peregrine falcons in the U.S. and Hawaiian crows in Hawaii. She has studied and helped conserve parrots in Guatemala and eagles in the cloud forest of Peru. She has published peer-reviewed articles in scientific journals and written magazine articles.
More like this story