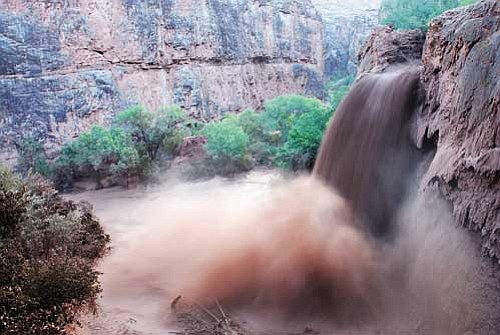 Originally Published: December 30, 2008 10:16 p.m.
January
Maswik Lodge evacuated for morning blaze
An early-morning fire in the propane storage area near Maswik led to the evacuation of about 50 guests from three lodge buildings on New Year's Day.
Xanterra Fire and Security personnel responded at about 5 a.m. to a report of a fire in the woods behind Maswik South.
Superintendent doesn't get top job in Phoenix
Grand Canyon School Superintendent Sheila Breen will keep that title for the foreseeable future after the top job in the Phoenix Union High School district went to the other finalist.
The school board chose Kent Scribner to head the city's largest district. He has served as superintendent of the Isaac Elementary School District in Phoenix since 2003.
Breen spent 14 years in the Phoenix Union District, most recently as Director of Special Education and Gifted Programs. She left that position in 2003 to come to Grand Canyon.
"A lot of people were rooting for me," she said. "They said, 'This is a great opportunity and we understand that, but we don't know if we want you to get the job."
She learned last month that she was accepted as Director of the American International School of Vienna. She leaves the community in July.
February
Cave research sheds light on age of Canyon
Research by University of New Mexico geologists appears to support the theory that Grand Canyon formed out of two river systems at different times.
Over several years, Victor Polynak, Carol Hill and Yemane Asmerom explored about 50 caves from Marble Canyon to the lower gorge, believing that their protected environment houses clues to how and when the Canyon formed.
In February, they presented their findings in an article in the technical journal Science, suggesting that based on water table data, the western part of the Canyon predates the east end by about 11 million years.
March
Search begins for local man gone missing
Rangers mounted a search for 29-year-old Eric Stanley, a Delaware North employee who left his home at about 2 a.m. on Friday, March 14, and hadn't been seen since. His body was recovered in April below Trail View Overlook on Hermits Road after a biologist was alerted by condor activity in the area.
Colorado man dies in flip at Hance Rapid
A 45-year-old Colorado man died in a boating accident at Hance Rapid on the Colorado River on Sunday, March 16. Randall Johnson of Grand Junction, Colo., flipped his boat at river mile 77 and could not be revived after being pulled from the water. He had been on a 21-day private river trip that had launched from Lees Ferry on Monday, March 10.
Man collapses, dies on Bright Angel Trail
A 72-year-old Idaho man collapsed and died on the Bright Angel Trail last on a day hike to Indian Gardens. Jack Mayfield, of Osburn, and a companion were returning that afternoon from the four and a half mile hike and were about a quarter of a mile below Mile and a Half House when Mayfield went down.
April
New genus of bug found in Canyon cave
Cave researchers announced the discovery of a new genus of a tiny booklouse from a cave on the western edge of the Grand Canyon-Parashant National Monument.
The new genus of psocopteran was discovered by J. Judson Wynne, a Northern Arizona University doctoral student and cave research scientist with the U.S. Geological Survey's Southwest Biological Science Center, and Kyle Voyles, a cave researcher from Parashant National Monument.
This is the third new genus of invertebrates found by the two scientists since 2006. They also have unearthed 15 new insect species from Grand Canyon region caves.
Couple joins National Rail Hall of Fame
Grand Canyon Railway preservationists and former owners Max and Thelma Biegert were inducted into the National Railroad Hall of Fame. They were honored for their dedication to preserving and reviving the historic Grand Canyon Railway.
The Biegerts began restoration in the mid 1980s and returned the service to the line on Sept. 17, 1989.
Grand Canyon Railway carries more than 500,000 people to Grand Canyon National Park each year, dramatically relieving congestion in the park.
May
Changes to key Grand Canyon School jobs
Principal Bob Kelso announced that he would change his job title for the 2008-2009 year, returning as the school's Special Education Director. He said that a number of factors contributed to the job change, including the death of close friend Marcus Fuhrman.
"It served to remind me how important it is to treat every day as a gift, that we should pursue the things that make us feel fulfilled," he said.
He took over as principal of Grand Canyon School in 2003, moving west to be closer to his parents, who live in the Phoenix area.
Dean of Students/MYP Coordinator Becky Crumbo eventually filled a newly-created Head of School position, taking on principal duties.
Former resident ends struggle with cancer
Marcus Milton Fuhrman, 59, died on Tuesday, April 29, 2008 after a most remarkable battle with cancer. He was surrounded by loved ones at his home in Big Water, Utah. Born February 8, 1949 in Lodi, Calif., to Marianne Catherine Seeley and Harry Joseph Fuhrman, he married Peggy Anne Ankrum on March 1, 1980, in Death Valley, Calif.
May
Community says farewell to resident king
On May 28, 2008, William David Foster passed in the comfort of his home, leaving his wife, Bess; daughter Keslee; son Jerrith and a large extended family and group of friends. A Tusayan resident for almost 20 years, he was known as an avid competitor and for his embodiment of "The Man," Elvis, at local events.
Choices saved lost hikers from tragedy
Alan Humphrey and his wife, Iris Faraklas, said that their plan of "stick together" probably saved their lives.
The two hikers were the subject of a late May search after they failed to report for an expected meeting in Prescott following a hike through the Royal Arch route of the Inner Canyon.
They were found tired, hungry, but otherwise in good condition near the South Bass Trail in the Royal Arch route area.
They got lost on the last leg of their trip when they overshot their exit route and attempted to reach the rim in the wrong side-canyon. They didn't panic but resolved to stick together and ration their food. They spent 11 days in the Canyon with temperatures ranging from freezing to the 90s before their rescue.
CCC exhibit marks 75th anniversary
A symposium and exhibit opening at Kolb Studio commemorated the 75th anniversary of the Civilian Conservation Corps at Grand Canyon.
Presenters at the symposium, "Saving Lives, Shaping the Land, Building Parks: The CCC in the Southwest, 1933-1942," discussed CCC projects at Grand Canyon and beyond. The weekend also included hikes and tours as well as dedication of a CCC memorial at Cedar Ridge.
Also instrumental in organizing the effort were Mike Anderson, Pam Cox, Jenny Albrinck, Pam Frazier, Dave Shank and Tom Pittenger, with support from Grand Canyon Association and the Park Service.
The first Grand Canyon CCC camp was established on the North Rim on May 29, 1933. In all, 800 men - four companies in all - served here between 1933 and 1942.
The two companies on the South Rim built the Community Building, warehouses, curbing, infrastructure (including the first phone and electric lines to Desert View) and the stone wall along the Rim Trail.
The company on the North Rim built water catchments, fences to keep livestock out and roads and trails.
Projects completed by the Phantom Ranch company included the nine-mile Ribbon Falls Trail, a swimming pool that was filled in in the 1970s, the first trans-canyon telephone line and the two-mile River Trail - the most difficult, taking three years to construct.
June
Xanterra finds buyer for park concessions
Denver billionaire Phil Anschutz entered into an agreement on June 5 to purchase Xanterra Parks and Resorts.
In a June 6 memo to employees that also served as the only public statement on the sale, CEO Andy Todd said that Anschutz was impressed with and wants to keep Xanterra's environmental and customer service philosophies, as well as its current properties.
In addition to its Grand Canyon holdings, Xanterra operates hotels, restaurants, shops and campgrounds at over 10 national parks and monuments, including Death Valley National Park, Yellowstone National Park, Petrified National Forest, Everglades National Park, Bryce Canyon and Zion national parks and Mount Rushmore National Monument. They also operate at several state parks in Ohio. Other holdings include three marinas and five golf courses
Anschutz, 68, was named the 31st wealthiest person in America by Forbes, with a net worth of about $7.8 billion. He has extensive holdings in the entertainment, professional sports, telecom, media and energy industries.
Tax judgement hikes property taxes by 19 percent
The tax burden for Tusayan property owners will increase by 19 percent this year, following tax judgments in favor of Xanterra, Delaware North and Qwest.
School Business Manager Lee Metheny explained the impact at last week's School Board meeting as part of the larger budget picture.
The rate will go up by about $1.80, to $11.09, to pay back $47,447.76 to Qwest, $135,427.38 to Delaware North and about $100,000 to Xanterra.
The Qwest refund is the result of a successful statewide challenge to the assessed value of the company's properties for 2004, 2005 and 2007. The share for all of Coconino County is about $1.1 million.
The refund to Delaware North is for tax years 2003,
2004 and 2005. The company sought the refund based on Xanterra's success in recouping three years of back payments after winning a suit to be removed from county property tax rolls.
The Xanterra payment is expected to be spaced out over 10 years at nominal interest pending approval of legislation allowing the county to carry the debt. Coconino County paid the $3.6 million judgment and agreed to pick up the court costs and interest of $1.2 million.
Murderer of tourist gets life in prison
A Havasupai man who murdered a 34-year-old Japanese tourist two years ago was sentenced to life in prison without the possibility of parole.
On Thursday, June 19, Randy Redtail Wescogame, 20, appeared before a judge in U.S. District Court in Phoenix, where he received the sentence.
He agreed to the terms when he pled guilty to second-degree murder last September in connection with the stabbing death of Tomomi Hanamure.
She was reported missing on May 9, 2006, a day after she checked into a lodge on the Havasupai Indian Reservation and left for a hike to the Havasupai Falls on her 34th birthday. Her body was located on May 13 in a secluded section of the river.
An autopsy revealed that Hanamure died as a result of approximately 30 stab wounds.
July
Field is tested amid rumors of radioactivity
Radiation testing was done at the school sports fields in response to long-standing rumors that they contain fill from the Orphan uranium mine.
"The rumors have been off and on for many years," said park Public Affairs Officer Maureen Oltrogge. "Because those concerns are out there, we're addressing them by having this done and putting those concerns to rest."
She said that they have searched the park's administrative records, both locally and at the regional office in Denver, for any indication that mine material went to the school.
"We've gone through it page by page and found nothing to indicate that anything from the mine went over to the school," she said.
The National Park Service is funding the testing, she said.
Butte named for legendary Canyon hiker
On July 16, the Arizona State Board on Geographic and Historic Names voted to officially designate Butchart Butte in Grand Canyon National Park in honor of pioneering Grand Canyon explorer Harvey Butchart.
The new name will appear on state maps made in Arizona, with federal approval to be determined in 2008.
Dedicated Grand Canyon hiker and climber Jim Haggart submitted the proposal for Butchart Butte. Chosen for its rugged beauty, remote location and visibility from both the North and South Rims, Butchart Butte is a fitting tribute that will be seen by millions of visitors each year.
The butte is a 2,317-meter summit of Coconino sandstone in Grand Canyon National Park, on the North Rim, midway between Cochise Butte and Siegfried Pyre. Butchart Butte rises between Lava and Kwagunt Canyons and may be readily seen from the North Rim's Point Imperial and the South Rim's Desert View.
Nearly 150 such summits have been named in the park. Few buttes have been named in recent decades, however.
August
Canadian man dies in fall from viewpoint
A young Canadian man died in a fall from a Grand Canyon viewpoint on Friday, Aug. 8.
Nineteen-year-old Mian Zhang was with a friend when he lost his footing and fell from an outcropping near Yaki Point.
Two other visitors also witnessed the fall and called 911.
Search and rescue rangers located the man's body at around 1 p.m., about 250 feet below the rim. Recovery efforts were hampered by afternoon thunderstorms and Zhang's body was removed around 5:30 p.m. that day and taken to the Coconino County medical examiner.
New executive director starts at Association
After nearly two decades at Northern Arizona University where she was serving as president of the NAU Foundation, Susan Schroeder took over as executive director of the Grand Canyon Association.
She brings two decades of fundraising experience to the job, as well as her passion for developing partnerships in 21st Century issues like sustainability and Native culture.
Restitution in order for typo police duo
A cross-country mission to "achieve the beauty of a typo-free society" ended with probation and restitution for two men who pleaded guilty to defacing a historic sign at Grand Canyon's Desert View Watchtower.
Jeff Michael Deck, 28, of Somerville, Mass., and Benjamin Douglas Herson, 28, of Virginia Beach, Va., were sentenced on Aug. 11 by U.S. Magistrate Judge Mark E. Aspey to a year of probation and to pay restitution of $3,035 - the cost to restore the 60 to 70-year-old, hand-painted sign that they "fixed" with white-out and permanent marker. They were also banned from visiting national parks for a year and had to post a statement on their Web site explaining the impact of their actions. They outlined their "corrections" on their blog, prompting reports that led to an investigation and arrest of the pair.
September
Toyota grant gives programs in park a boost
A range of Grand Canyon educational and safety programs benefited from a $500,000 donation from Toyota under the company's Leadership and Environmental Awareness for our Future (LEAF) program.
The grant was part of an endowment of $5 million and 23 vehicles to use toward environmental education. Donations also went to Everglades National Park,
Great Smokey Mountain National Park, Yellowstone National Park, Yosemite National Park and the National Park Foundation.
Among the things funded by the grant: a school resource officer for two years, expansion of the historic mounted ranger program, build Grand Canyon Youth's Rim to River stewardship program, support the Grand Canyon Environmental Education program and expand the Preventive Search and Rescue program to the North Rim.
Man completes backwards hike across Canyon
On Sept. 24, "Wild Bill" Kathan hiked the Grand Canyon from rim to rim backwards in 15 hours and 23 minutes. He left the Canyon's North Rim at 5:53 a.m. and concluded his backward journey at 9:30 p.m., emerging from the Canyon at the Bright Angel Trailhead.
The 56-year-old Vermont resident has other claims to fame, including a backwards walk across the country.
October
School opens new outdoor classroom
As long as there's been a school here, the outdoors has served as a classroom for Grand Canyon students. But this year, with a grant from Arizona Department of Game and Fish and funds from the Grand Canyon Rotary, students witnessed the opening of a designated space for outdoor learning. The project had been in the works for two years, with the effort spearheaded by elementary teacher Kelley Ingols and ranger Megan Kohli who worked in the park's interpretive division at the time.
Ingols helped design the space and the park's trail crew built benches and tables from materials found in the park. Grand Canyon Association members volunteered to put down mulch and GCA also donated some outdoor education materials.
"This is just amazing," Ingols said. "Until now we were just sitting down in the dirt."
Along with serving as a staging area for classroom field trips, Ingols said the space is also available for community groups to use, with details available at the school district office.
The grant will also pay for a workshop this spring for teachers and rangers to help them teach more effectively about local wildlife.
Eckert named superintendent for Albright
Albright Training Center welcomed new superintendent Lisa Eckert. She came
from Gateway National Recreation Area in New York City, where she was superintendent for two and a half years. She has been with NPS for 26 years, and Grand Canyon is her 13th national park
She worked seasonally for eight years before joining the Park Service full-time. Since then, she's been what she terms "an omnivore ranger," working in law enforcement, search and rescue, fire, interpretation and resource management.
McBroom is rural schools teacher of year
Grand Canyon School art teacher Amy McBroom was named Arizona Rural Schools Associations Teacher of the Year for her career spent in small, rural schools including Leupp and Grand Canyon.
She did her student teaching in Sedona and held her first teaching job in Jeddito near Second Mesa. After a year there, she moved to Leupp, a Bureau of Indian Affairs charter school, where she stayed seven years. She has been at Grand Canyon for eight.
School Superintendent Sheila Breen nominated McBroom, who then had to fill out an application and complete essays. After her selection at the Coconino County level, she emerged in the top five in the state.
The finalists appeared before an eight-member panel to be interviewed. Meeting her fellow finalist made her feel a little awed, she said.
"I was like, no way. I saw the caliber of people, these are just incredible people," she said. "I felt proud to be seen as the same stature as the other four."
David Lopez dies after battle with cancer
Lifelong resident David Lopez passed away after a long battle with lung and throat cancer.
David Lopez was born at Grand Canyon on July 27, 1955 and lived here all of his life, working for the park's water department. He died Oct. 25, 2008, in Seligman at the age of 53.
Eulogies were delivered by brother Dan Lopez and sister Mari Celeste.
Dan Lopez said that the turnout supported the oxymoron he'd coined to describe his brother - "the most popular loner." He recalled David as a prickly character with a wicked sense of humor, loved for, rather than in spite of, his eccentricities.
He is survived by his mother Josie Lopez of Seligman; sisters Margaret Alvarado of Seligman and Mari Celseste of Las Vegas; and brother Dan Lopez of Grand Canyon.
November
First marathon at the Canyon is a success
More than 60 runners took part in the first Grand Canyon Marathon on Nov. 15. About 25 groups and businesses were involved with the event, with IMAX and Teva as primary sponsors. Runners came from as far as Japan.
Finishing first was Erin Hutchinson of Flagstaff with a time of 3:15:42. Leading for the women was Grand Canyon's Elizabeth Davis, who also came in fourth overall with 3:41:37.
Other local finishers included David Smith (10th, 4:06:45), Brandon Torres (16th, 4:19:55), Daniel Trenchard (22nd, 4:49:11), Madison Berry (33rd, 5:10:24), Luis Garcia (38th, 5:20:26) and Bernard Ponnyah (42nd, 5:47:37).
Wildlife Day honors vision of biologist
In honor of late Grand Canyon wildlife biologist Eric York and to raise awareness for wildlife and how it's preserved in national parks, Grand Canyon sponsored its first Celebrate Wildlife Day on Nov. 1.
Along with an open house, it featured activities and special speakers. In conjunction with the special day, Grand Canyon Association launched its Adopt A Lion program that returns a portion of profits on plush lions to park wildlife research. Both were programs that York championed.
Hermit Road reopens after long rehab
The park's most popular scenic road reopened with a ribbon cutting and thank-you's all around for timely completion of a project that widened and modernized the 75-year-old Hermit Road while maintaining its historic character.
It and the South Entrance used 35,000 tons of asphalt and 8,000 tons of aggregate base. More than 17,000 square yards of trail were added along with 9,000 cubic yards of hand-placed rocks and boulders.
The $13 million project was funded with entrance fee money.
Challenges including working around one of just a couple of colonies of an endangered plant found only at Grand Canyon. To accommodate the sentry milkvetch recovery efforts, Maricopa Point was redesigned with a larger buffer zone between the Rim Trail and the fenced off area where the plants are.
Orphan Mine to see early stages toward cleanup
Work started to remove all man-made materials, including the headframe, from the Orphan Mine site on Hermits Road. Officials said it wasn't the clean-up but the beginning of evaluating and planning for it.
The claim for the Orphan Mine was staked in 1906. While it was mined some for copper, its most productive years were between 1953 and 1969, when it closed after yielding 13 million pounds of uranium. The government assumed own-
ership of the site in 1987. Since then, the Park Service has removed some equipment from the site and conducted enough preliminary testing to determine levels of contamination that warrant further investigation.
Clearing the site is the first step in an Engineering Evaluation/Cost Analysis that ends with a recommended cleanup alternative. Through the EE/CA process, they will assess how much and what kind of contamination there is and its risk to humans and the environment, then evaluate removal options.
Cleanup will be a single project.
December
Final report is released on biologist's death
The official report on the death of Eric York was released, a year after the 37-year-old biologist was found dead in his home here.
The release was made in conjunction with a public meeting led by Deputy Superintendent Palma Wilson, who also served on the Board of Review with three representatives from the park's Intermountain Region.
The report revealed nothing new regarding the cause of death - plague was determined as the cause within about two weeks - but it did contain new information on how York contracted the disease and recommendations, some of which have been implemented throughout the National Park Service.
The report said that likely exposure was on Friday, Oct. 26, when he recovered a dead mountain lion and performed a necropsy in his garage.
Photos showed that York didn't wear gloves or a respirator during the procedure. When he visited the clinic with flu-like symptoms on the Tuesday before his death he didn't inform the doctor of his recent contact with the lion. It was determined that York and the mountain lion had the same strain of the disease.
More like this story