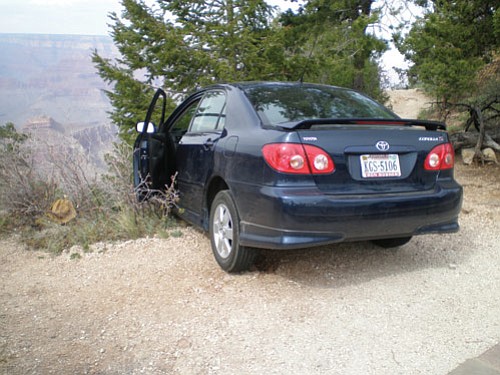 Originally Published: December 30, 2008 10:54 p.m.
On May 12, a four-tour war veteran and his brother became the subject of a two-day manhunt after they stole a vehicle at gunpoint near Mather Point.
The two, 36-year-old Marine Staff Sgt. Travis Twiggs and his brother, Willard, 38, drove from Virginia to the Canyon, where their car was stranded in their attempt to drive it over the edge on Desert View Drive.
The pair stole a rental car from a Florida couple near Mather Point and fled. In the two days that authorities looked for the men, Travis Twiggs' own tragic story came to light. Four months earlier, he had an article in the Marine Corps Gazette about the torment he brought home from four combat tours to "the sandbox" - one in Afghanistan and three in Iraq - between 2002-2006. The only relief he found was in volunteering to go back but on his fourth tour he lost two men and never forgave himself.
At the time of the article, his tone was optimistic. He had found some peace and purpose working with Marines again as an instructor at the Martial Arts Center of Excellence. He had written, "Don't get me wrong. The PTSD is not completely gone," he added, "It's just that now I know how to deal with it."
He ended the article with his e-mail address and an offer of help and support to anyone with similar struggles.
The pair died in an apparent murder-suicide on Wednesday, May 14, after a 136-mile chase that started near Yuma and ended in Pinal County.
He left a wife and two young daughters.
More like this story