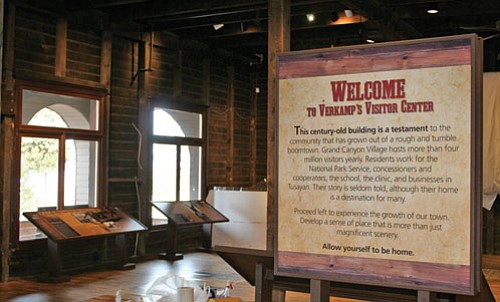 Originally Published: December 31, 2008 12:04 a.m.
Verkamp's Curios closed its doors at the end of this summer season, ending a 100-year run that made theirs the longest continually operating family-owned business in the national park system.
When it reopened in November, it marked not the end of an era but an affirmation of the kind of community spirit embodied by the family and others with an exhibit that interprets the Grand Canyon that people call home.
The Park Service had put out a call for bids, but withdrew it and paid $2.5 million for the building put up by John Verkamp in 1906 and three employee housing units. The family did not bid, saying that the next generation of Verkamps had other interests and that contracting regulations were becoming too complicated.
Three Verkamp brothers - John, Leo and Oscar - came to Flagstaff from Cincinnati, Ohio, partnering with five Babbitt brothers who also hailed from Ohio. About a year before starting his own enterprise out of a tent in 1905, John sold curios and souvenirs for the Babbitts.
The building came a year later, one of several that included El Tovar and Hopi House built to accommodate the influx of visitors aboard the newly-arrived Santa Fe Railroad.
In 1936, with his other business interests evaporated in the Great Depression, he and his wife Catherine moved to the store which became their home and livelihood. Their son, John Jr., took over in 1945. Michael, who managed the store for 23 years, represented the third and current generation to manage the store.
As the first visitor center on the Rim, the building will be staffed with uniformed rangers daily from 8 a.m.-5 p.m. Grand Canyon Association will operate a bookstore in the space as well.
There will be information boards, touch tables, a replica of the original Verkamp tent, family movies and historic photos.
They plan to convert the upstairs space into living and working quarters for artists in residence.
There will be an official grand opening in January, in conjunction with the park's 90th birthday.
More like this story