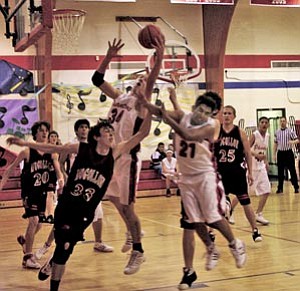 Originally Published: February 6, 2008 9:29 a.m.
Varsity boys and girls delivered in critical games last Friday in bids to secure their respective places in the 1A North Regionals in Fredonia this weekend.
The ladies scrapped for their berth with a 37-30 win, while the boys ended up with third seed in the regionals through their 47-33 victory, both over Ash Fork. Though originally in line for second seed, that spot went to the Fredonia Lynx, who upset conference leader Williams.
Lady Phantoms, 37
Ash Fork Spartans, 30
The Grand Canyon Lady Phantoms used a very aggressive defense and a gutsy offensive performance to beat the Spartans and snag the final spot in regionals.
With those stakes, both teams came out nervous and had numerous turnovers. In spite of that, the Phantoms' multiple defenses kept Ash Fork off balance, giving the young Phantoms a 20-13 halftime lead.
In the third quarter, Ash Fork turned the tables and closed the gap to 28-26 to start the fourth quarter.
Once again the Ladies went to defensive pressure and only allowed the Spartans two third quarter field goals.
Freshman Madison Berry scored 6 of her game-high 13 points in the final stanza, completing a double double by grabbing 14 rebounds.
Sophomore center Miriam Bankston continued her assault on the boards with a game-high 16 rebounds while scoring 9 points.
"This was a big step for our program, as we are physically capable of playing good basketball," said Head Coach Dan Lopez. "We needed this for our confidence and for the mental aspect that the team can step up in big games, and boy did they do that tonight. This is a great group of kids."
Grand Canyon, 43
White Cone, 33
Last Thursday night, the Lady Phantoms played 1A newcomers, the White Cone Lady Broncos, coming away with a 43-33 win.
Bankston had another double double, scoring 18 points and grabbing 13 rebounds. Marissa Timeche chipped in 7 points and Liz Tobin had 6 points and 6 steals.
The Canyon took a 34-23 lead into the fourth quarter and was able to maintain that margin for most of the final minutes.
Mogollon, 32
Grand Canyon, 22
In the not-too-distant past, when the Lady Phantoms played the Mogollon Mustangs it was pretty much an effort in futility that resulted in 30-point losses.
But the times are changing as a scrappy Grand Canyon girls basketball team lost a very hard-fought game to the Lady 'Stangs Saturday night.
Trailing 28-22 to start the fourth quarter, the Phantoms' aggressive defensive press forced numerous Mustang turnovers and held the visitors to one fourth quarter field goal.
Unfortunately the Ladies had a tough time scoring against a well-played Mustang zone and the Phantoms were unable to score any points.
Lopez said part of the offensive problems were a result of losing leading freshman scorer Berry to an ankle sprain in the last few minutes of the JV game, and then losing sophomore center Bankston in the third quarter on a hard foul that severely bruised her tail bone.
"Losing our two leading rebounders and scorers was too tough for this young team to overcome," Lopez said. "Yet we battled the entire game and I thought in the fourth quarter if we would have made a few lay ups, we might have made a run. I have to give credit to Mogollon, they played hard and aggressively as they always do."