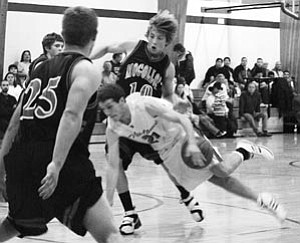 Originally Published: February 6, 2008 9:36 a.m.
Grand Canyon, 47
Ash Fork, 33
The Phantom boys took on the Ash Fork Spartans Friday night, scoring a needed win to keep in line for a number two seed at regionals next weekend in Fredonia.
Junior guard Danny Trenchard led all scorers with 18 points and Bille Booth had 13 points and 22 rebounds.
The Phantoms jumped out to a 25-11 half-time lead and maintained that margin throughout the second half.
As far as their second-seed rank, Head Coach Dan Lopez found out later that Fredonia upset the conference frontrunner, the Williams Vikings, giving the Lynx the second seed and the Canyon a third seed.
Mogollon, 48
Grand Canyon, 29
Saturday night was homecoming and the boys hosted the third-ranked team in 1A, the Mogollon Mustangs, losing 48-29 in a game that was closer than the final score indicates.
The second and third quarters proved to be costly as the 'Stangs outscored the undermanned Canyon 26-9. A late Canyon run closed the gap to 10 points but the weary Phantoms could never get any closer.
Booth finished with 13 points and what could be a single-game school record 27 rebounds.
Lopez said he was very proud of this team, which normally had just eight academically eligible players for most of the season.
"These kids have played their hearts out all season and as a coach that is all you can ask," Lopez said. "I have a lot of respect for these guys, playing and practicing hard all the time and more importantly getting it done in the classroom."
The Phantoms play Rock Point at 1:30 p.m. this Friday in Fredonia, and the girls will play Rock Point at 6 p.m. also on Friday night.