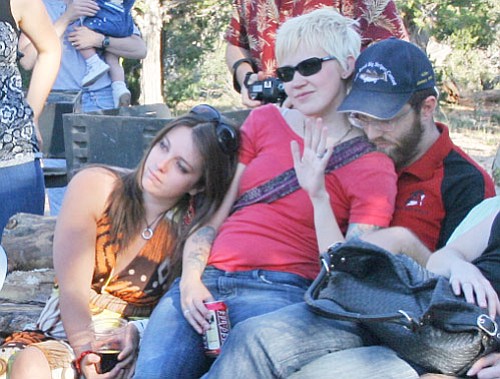 Originally Published: July 1, 2008 10:30 p.m.
"There is no such reward for a well-spent life as to see one's children well-started in life, owing to their parents good health, good principles, fixed character, good breeding, and in general the whole outfit, that enables them to fight the battle of life with success."
- A quote Marcus included in a 1970s letter to his father that also could be said about himself.
Life was more than a career to Marcus Fuhrman - it was an adventure. One to be seized (carpe diem), and one that took him to some of the most beautiful places on the planet, serving up an eclectic cast of characters and life-altering experiences.
And life was love.
It was in the love he shared with his wife, Peggy, and witnessed in the eyes of his two children, Mandy and Wes, and daughter-in-law Alena.
It was the love he had for his childhood family in California's Big Valley - a teeming brood of eight, two girls and six boys.
And it was the love he was drawn to, captured through the viewfinder of his camera as he composed photos of Death Valley sand dunes, a snow-dappled Grand Canyon and the misty grandeur of Kauai's rugged Napali Coast.
He remained a lifelong learner, always reading and writing prose or poetry. In his 20s, he penned a poem (as Mark A. Mechanic) for an ad he tacked up on campus kiosks to drum up business when he was a college student on the Central Coast of California:
"Now my friend, don't think this is a joke
I can rebuild your engine or just reset your choke,
And one thing more, the prices are fair ...
So give me a call, before going elsewhere."
He had many interests - community theater, fishing, poker, photography, fishing, boats, basketball, fishing, cars and fishing - but not in any particular order. He was a handyman, willing to tackle any project or lend a hand - whether it was rebuilding and old Jaguar or Land Rover in San Luis Obispo, reassembling a doublewide trailer in Northern Arizona, or renovating a century-old Victorian in America's heartland. Most of all, he was a loving husband, proud father, son, brother, teacher and friend to many.
Marcus was born Feb. 8, 1949, in Stockton, Calif., and came of age during the turbulent 1960s. He had a love of music throughout his life. The Beatles spoke to him as a teenager, so it's fitting that the last song on their "Abbey Road" album contains a line that could also sum up the life and times of Marcus Milton Fuhrman: "And in the end, the love you take is equal to the love you make."
While his illness taught him the power of positive thinking and that every day is a gift to be cherished, he learned at an early age about love from his parents, Marianne Catherine Seeley and Harry Joseph Fuhrman, who he addressed in letters as Marinski and HJ.
He described growing up with seven siblings in a home that "was so steady you could balance a water droplet on a pinhead."
And in numerous missives to his parents, he fondly returned to those early years, like in this remembrance for his mother's birthday in 1983:
Charlie's yelling ... Em's a baby
Organizing us kids only a maybe ...
Julie's ready, I've got my lunch bag
Kurt's so cute, even dressed in rags
Up on the seat, I'm ready to pedal
Cord pants, and Pete's shoes, on the metal
I turn around to wave to you (as Harry, Pete, Julie, Chas, Kurt, Emily and Al will do)
And your face in sun, eyes almost closer
A pert little smile right under your nose ...
You wave and shout, "Have fun and be good!"
He recalled, in another letter, boyhood memories of May Day celebrations with "flowers and bright clothes," a chance sighting of President John F. Kennedy and Christmas celebrations with "songs, decorations, the church draped with green branches wrapped into oval wreaths."
He never forgot his parents' influence and remained grateful for their guidance and the example they set.
"Well, Mom, I hope these words have a pleasant effect on you and HJ," he wrote in another letter he signed "son No. 4." "And I hope you know how often I think of you and thank you for being two lovely people who I was fortunate enough to know and learn from and am always proud to call my loving mother and father."
Those formative years included attending the elementary school operated by St. Bernadette Catholic Church, where he served as an altar boy - "though sometimes he'd tell Mom he was going to church, but instead he'd head to a nearby coffee shop and buy a newspaper and read it until Mass was over," his sister Julie recalled.
He attended Amos Alonzo Stagg High School on Brookside Road in Stockton and played basketball and baseball for the Delta Kings. After graduating in 1967, Marcus moved south to attend Cuesta College near San Luis Obispo, Calif., and would remain in that area through the mid-1970s.
During his two years at Cuesta in the late 1960s he was cast in a play - an experience that would stay with him throughout his life. "He played a butler in one scene," recalled sister Julie, who would also move to the same rural Central California county. "No lines. He just walked in and dropped a tray - dramatically, of course."
Later he attended Cal Poly where he majored in English until 1970 when Uncle Sam intervened. Drawing a low number in the draft lottery (and a higher probability of being inducted into the Army and a war in Vietnam), Marcus opted to join the National Guard - but orders and the military chain of command didn't suit him.
"He hated it so much he even tried to go AWOL," Julie said. "He did go back after MPs came to Mom and Dad's house in Shell Beach. He served the remaining six years of monthly Reserve service at Camp San Luis Obispo with his brother- in-law Paul (Klopping)."
Free of military entanglements and armed with a reservoir of love as deep and full as Lake Powell, Marcus set off on a journey that would take him abroad, to the Virgin Islands, Death Valley, the Grand Canyon, Kauai and Napa Valley, Calif.
Career would have to wait (that would come 20 years later). He was instead drawn to places and especially people and the lessons he could learn from each.
"Why don't you guys move back to (the Central Coast of California) - relax and we'll talk about the whole world all the time," he wrote to parents after a 1976 visit to Northern California. "What could or would be more pleasurable than that? I find the more I talk to people, the more I want to - they're so fascinating and interesting.
"I feel I'm a pretty good listener so people can talk easily to me. I like it. So if there's ever anything on your mind, just call me and we'll TALK about it."
By 1980 he was working for the Fred Harvey Co. in Death Valley. It was a stop on the road that would forever change his life. A co-worker encouraged him to ask out one of the girls working in the bar. It was love at first sight.
On one of the many dates that followed, Peggy Anne Ankrum admitted (while Marcus was buying her ice cream) that she could see herself marrying this bespectacled man.
And they did - "beneath a full desert moon" at the Furnace Creek Inn Garden - on March 1, 1980.
Within seven months he sold his MG sports car and motorcycle. In an Oct. 12 letter home, he had even more dramatic news to report:
"Next time we see you we ought to have a little cutie!" he wrote. "Whoa! Hard to believe, but so great to be a part of ... I've been waiting for this for a long time - like, all my life."
Amanda Mae Fuhrman was born Feb. 5, 1981, followed about a year and a half later, on Dec. 2, 1982, by Wesley Tanner Fuhrman, who arrived "in the middle of a blizzard with a full moon overhead."
In a Christmas card from Moqui Lodge that year, he boasted to a friend that Wesley "is healthy and sound as the Tapeats (a layer of sandstone in the Canyon about 545 million years old)! Mandy, you would have to see to believe. At 23 months, she sings, dances and laughs constantly. A beauty too."
Marcus worked as a waiter at Moqui and the El Tovar during the five years the family lived in the shadow of Moqui's A-frame on the sundown side of Highway 64.
"I liked waiting tables because it demanded so much of me - quickness and memory and anticipation and planning and speed and accuracy," he said in January of 2006. "But customers could very easily make me feel subservient. It didn't take much - a look, a word, an attitude or a kind of brush-off.
"Maybe one out of 20 tables I'd get that sense. But the other 19 it was like a challenge: Go get them, bust them, dominate them with dialogue or interest - draw them out and find out who they are."
Waiting tables would take the family west to Poipu, Kauai - Hawaii's Garden Isle - and eventually back to his native state and Napa Valley - the center of the Golden State's viticultural industry and an epicure's delight in Northern California.
By the late 1980s the four Fuhrmans had settled in Iowa, where Peggy had family and where Marcus would finally find his niche and a career. He graduated with a bachelor's degree in education from Buena Vista College on May 24, 1992. And, at age 43, he became a teacher.
For a Californian, Iowa was not without its own subtle charms, he wrote in a letter to his parents then living in Petaluma, Calif., finding poetry and newfound purpose in the folds and furrows of America's heartland.
"Iowa in May is a beautiful land, the promise of spring delivered in abundance," he wrote. "The rolling green spreads a carpet of lushness, velvet to the eyes and a jolt to the muscles as we train and control its life force within boundaries of concrete and asphalt.
"Pulling pale green scarves from brown sticks of latent lumber, nature reveals a magicianship far more mystical than any canton or creed of man. The sky is calm today. The frequent winds of winter, now abated and abolished, stepping aside to the more powerful and undeniable renewal of life that is spring."
The couple bought a 110-year-old Victorian that they nicknamed the "Pink Lady," and Marcus honed his handyman skills while embarking on a teaching career. He taught middle school and high school English, and also agreed to coach basketball - a game for which he had a lifelong passion.
"Yesterday, we had a game at Iowa Falls, and they gave my (eighth-grade) team and I a lesson in how to play intense, unrelenting defense," he said in an undated letter to his mother during this period. "My players seemed stunned and inept. The score soared against us and halfway through the second quarter I brought the team aside and said, 'Hey guys, let's have some fun. Forget the score and enjoy the rest of the game.' "
In the classroom, he taught his students the difference between proper nouns and pronouns, but he also found time to impart lasting lessons about life, a concept not lost on the teacher.
"One area that I go over often with my students is 'respect,' " he wrote to his mother. "Not a complaint, but rather an observation: 'These kids these days ain't got no manners, no how!' So my job is easily defined. Hopefully some day some child will say 'Glad, I learned to be a good human being back there in Fort Dodge, Iowa.' "
He would be gratified to know how prescient that statement was and the fact that a decade later some of those very students would remember him as "a huge inspiration."
After his own children graduated high school - Mandy went west to a college in Santa Barbara while her brother headed east to study in Boston, and eventually found love and married Alena in Minnesota - the empty-nesters returned to the Grand Canyon as teachers.
"We taught there for three years," he told a friend in 2006. "It was good. And it was beautiful and quiet."
During this time he hosted poker tournaments at Grand Canyon. Some poker buddies joked that the card games were a way he used to supplement his modest teacher's pay. Still, "it was really a lot of fun for him," recalled daughter Mandy. "And he loved taking their money, which is usually what happened."
But the desire to own a house and the lure of boating and fishing on Lake Powell, brought Marcus and Peg north to Page, Ariz., and ultimately Big Water, Utah, where he boasted that the scenery was beautiful and the living was easy.
"I've taught English two years at the high school now," he said in early 2006. "Peggy's a high school counselor. We bought this house two years ago. It's got three acres. It's really nice. I love it."
While there he acted as a surrogate grandfather to a friend's children, Gracie and Maddox Talker.
Marcus and Maddox "were impossible to separate," recalled Mandy. "Maddox called my dad 'Uncle Marcus,' and my dad called him 'Mad-Man' or 'knucklehead.' They would go fishing together, work in the garden together ... my dad even taught him Shakespeare quotes at age 2.
"I was so glad they had this relationship because I know my dad would have made a most amazing grandfather," she added. "And, in a way, he got to."
And a journey that began in a river town in California during the Truman administration, finally found a home in the Beehive State on the edge of one of the most beautiful lakes in the world.
"It is better to travel hopefully than it is to arrive," wrote Robert Louis Stevenson, meaning that the journey, not the destination, is what we are seeking as we travel through life. Marcus always traveled hopeful. Before he was an academic, the road was his academy of higher learning. He learned about many of life's foibles there and as a teacher took pride in sharing lessons gleaned along life's blue highways.
"Since I've been a kid I've always liked positive experiences," he said a year before getting sick. "I go out and I explore them and use them for a while and move on."
For Marcus, moving on meant the opportunity to gather more love in the form of meeting intriguing people and visiting sublime places of beauty with the experiences they fostered - a cosmic journey he began April 29, 2008.
"Love is all you need," the Beatles once sang. For Marcus, there was always plenty of love to go around.
• • •
Marcus Fuhrman died Tuesday, April 29, 2008, after a remarkable and hard-fought battle. He was 59.
He was surrounded by his family at home in Big Water, Utah.
Marcus is survived by his wife, Peggy of Big Water, Utah,; children: Amanda Fuhrman of Big Water and Wesley (Alena) Fuhrman of St. Paul, Minn.; his mother, Marianne Fuhrman of Petaluma, Calif.; siblings: Harry (Mary) Fuhrman Jr., Peter (Richard) Fuhrman, Julie (Paul) Klopping, Charles (Mary) Fuhrman, Kurt (Laura) Fuhrman, Emily (Steve) Warn and Alec (Londa) Fuhrman; Ankrum in-laws; many nieces and nephews; and "like grandchildren," Maddox and Gracie Talker. His father, Harry Joseph Fuhrman, preceded him in death.
More like this story