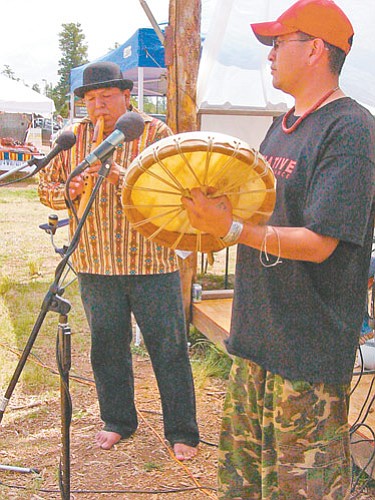 Originally Published: July 15, 2008 10:11 p.m.
The lack of Independence Day weekend fireworks did not stop visitors to the Grand Canyon from sounding the traditional "oooooh" and "aaaaah" associated with the Fourth of July holiday. The sparks were flying at the Peshlakai family Indian Market at Tusayan as dancers Miss Indian World 2006-2007 Violet Duncan, Tony Duncan, David Brush, Jeremy Meyers and two young friends performed various pow-wow style dances-including the hoop dance and the shawl dance.
James and Mae Peshlakai-co-founders of the Peshlakai Cultural Foundation dedicated to the preservation of the life ways and arts of Native American people-held their first annual Flute Contest on July 5.
Violet told different tribal stories about the flute, and its use among Native people as a courting instrument.
The Hidatsa Tribe, Violet said, believes that the flute came from the birds. In other tribes, a young man traditionally could not talk to a young woman without the permission of her grandmother.
"One young man admired a young woman, but he knew that he could not speak to her," Violet said. "So he made a flute, and sat playing his song. The grandmother heard the song, and told her granddaughter to listen to the music. 'Listen,' she said. 'The song sounds like the wind. It is as beautiful as the wind. If you like what you hear, grab some leaves and toss them on the water so that he will know that you have chosen him.'"
The young woman did listen to the song, and as she listened, she liked what she heard and tossed leaves into the water, Violet continued. So the young man was accepted by the grandmother and was able to talk to the young woman.
The flute contest opened with the solo category. Tony Duncan (San Carlos Apache), a world-champion hoop dancer, who has played the flute since childhood, took first place. Second place was awarded to Jeremy Myers, who told the audience that he had been playing the flute for three years. Meyers performed on an Apache cane flute. Third place went to Kelvin Long, a Navajo activist and river guide, who has played for about five years.
The second category was the flute duet.
Duncan and guitarist Darrin Yazzie, of the group Estun-Bah, took first place.
Long was accompanied by fellow-activist and hip-hop artist Gabriel Yaiva (Hopi and Navajo). Calling themselves Native Renaissance, Yaiva provided vocals and hand drum. The duo took second place.
Myers was accompanied by Dave Brush (Northern Cheyenne and Seminole) on the hand drum. Brush also provided vocals. Their group was called Sweeeet Grass. This duo took third place.
Each was awarded a cash prize for their performances.
The flute performances were judged for qualities such as tone, melody, seriousness, presentation and more. The judges were selected from the artisans who had gathered at the market to display their wares.
More like this story