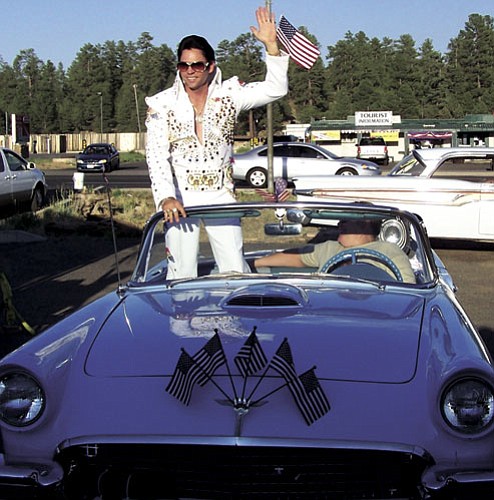 Originally Published: June 7, 2008 10:29 a.m.
Bill Foster lived a life that was big, audacious, generous and colorful, leaving those who knew him with hours of memories, jokes and fishing stories to share.
Even so, his half hour memorial service seemed the most fitting tribute to a man who might sing some blues but had no interest in living them.
"Bill wouldn't like anything to go on too long," noted his sister-in-law, Clarinda Vail.
A crowd gathered at Shoshone Point on Sunday, June 1, 2008, with the backdrop of the Grand Canyon and the sounds of Elvis, to honor Bill's memory and to comfort his wife Bess, children Keslee and Jerrith and the Thurston and Vail families.
Just a few people spoke - Bess and Keslee shared deeply personal tributes to a man who was defined by his devotion to his family.
"Keslee and Jerrith love you very much and I know how much you loved them," Bess said. "And you always took the opportunity to let them know how very proud you were of them. Our Bug and our Little Man. Boy did we have some beautiful babies."
She also turned to some words from Elvis to express her sorrow, saying "Now it seems I find myself wearing blue suede shoes, walking this lonely street to heartbreak hotel, singing moody blues."
Saying she was sorry for "the stupid fights and teenage rebellion," Keslee promised to live up to her father's image of her as "a piece of gold" and to pass on the jokes he told to her own kids someday.
"I'll miss you like I never missed anything else in my life," she said. "I will miss you every second of my life."
John Vail said that while he couldn't share all the names he had for Bill though he offered a couple - Senor Willy and Billvis - "most of all, I called him my brother."
The group asked for, and received, a fishing story as well. John's father, Bob Vail, offered a couple of them that illustrated Bill's passion and competitive spirit. After a tournament, he'd asked Bill's fishing partner how Bill had done.
"This guy's nuts," he recalls the man saying. "I've never seen anyone work as hard at fishing as Bill did. As competitive as he was, it was just constant motion. He didn't even slow down to eat cheese crackers."
After another tournament, when a six-pound prize winner got away, Bill went out the next morning in foul weather to land it.
"It was raining and white-capping," Bob said. "Bill's boat was gone. He comes back in and he got that fish. He went back and caught the dad-gum thing."
A cousin, Eddy Collie, read from John 14:1-6, a verse that included "My father's house has many mansions."
One of them is almost certainly named Graceland.
What would Bill do?
Family friend Dr. Elizabeth Caspian of Flagstaff offered the following tribute.
"It was as if he wrote this," she said, by way of introduction. "Bill did kind of see himself like Jesus."
If you feel afraid, do what Bill would do. Take action. Make a plan. Even if that plan makes sense to you and just a few. Action is better than no action. That is what Bill would do.
If you feel sad, do what Bill would do. Cheer yourself up. Go fishing or your activity of choice. No need to wallow in sadness. Having fun is better than being sad. That's what Bill would say.
If you feel confused, do what Bill would do. Admit it - I feel confused. Talk to someone who can help you sort it out. Because admitting confusion is better than faking it. That is what Bill did.
If you feel bored, do what Bill would do. Brighten up your life. Get yourself an Elvis costume. Tell a funny story. Laugh from your gut. Life is just too short not to enjoy the ride. That is what Bill would want for you.
If you're missing Bill, do what Bill would do. Take action. Have some fun but be real about what you feel and talk to someone. Get back to enjoying the ride anyway. Because that's what Bill would do.