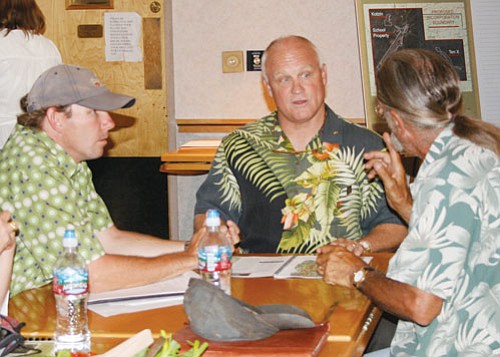 Originally Published: June 25, 2008 6:53 a.m.
At last Wednesday's open house hosted by Citizens for Tusayan Incorporation Choice, 10-year resident Bob Blasi was in the minority - at least among those in the room, though probably not in the community. He's a voter who hasn't yet decided where he stands on the question of incorporation.
"My interest is in the community," he said, noting that he has 10 years to go in the Forest Service until retirement and ideally would like to stay here. "Incorporation sounds nice. It's promising a future, yet the opposing side is asking why haven't they already done what they can? I don't know the answers."
Both sides were present last Wednesday, though the open house was hosted by the group that petitioned to have the question put on the Sept. 2 ballot. Denied a request to turn the forum into a public debate, the opposition group, The Price Is Not Right: Vote NO on Tusayan Incorporation, also spoke with visitors, handing out literature and answering questions.
Voters will decide on Sept. 2 whether the community of Tusayan becomes an incorporated entity that's self-sustaining and governed by a local town council or whether it remains under county control with county support.
More than 30 registered voters - just over double the 14 required - submitted a petition last spring asking that the question go on the ballot. The process was spearheaded by Best Western Squire General Manager Greg Bryan, who chaired a five-person committee that spent four years studying the pros and cons of incorporation.
A key backer is Elling Halvorson, a longtime owner of numerous properties in the community, including the Squire and Papillon Helicopters.
Also on the committee were Ann Wren, Clarinda Vail, Brian Ciesielski, John Thurston and Pete Shearer.
Two members of that committee - lifelong residents Vail and Thurston - helped form the opposition group. They, along with resident Bess Foster, hold about a 6 percent stake in opposition backer Red Feather Lodge and its associated business properties, as well as two pieces of their own land.
Others with a stake include extended family and outside investors.
Also on the committee are 30-year residents Eric Gueissaz, Beth Seely and Becky Shearer.
The group has challenged the other side to public debates and has offered some dates, one of which has already passed. As of press time, none has been set.
Meanwhile, Residents for Tusayan Incorporation Choice will host a second open house tomorrow, from 3-5 p.m., at the Squire.
Blasi said that he believes such debates are essential so that the public can make an informed choice.
"I'm watching what's happening because my future depends on it," he said.
With the prospect of permanent housing that's not tied to employment being touted as a major selling point for incorporation, opponents question why those pushing it are not developing 21 acres of residential land they already own.
Bryan said that this property is too close to commercial properties and Route 64, but an incorporated Tusayan would receive a gift of 40 acres, part of the 160-acre Kotzin property located northwest of the airport. The deed would be restricted to allow only primary homes for Tusayan residents and it would be managed by a council-appointed housing authority.
"It would only accommodate residents of Tusayan," Bryan said.
His group maintains that their commercial vision for that land is the same as that outlined by the Grand Canyon Improvement Association, which formed in 1994 to develop a community master plan and was chaired by Chris Thurston.
A conceptual site plan shows a hotel on that property, which at the time was owned by Roberta Fain - a cousin to the Thurstons - as part of a "tourist core" with additional residential property and a proposed school site just a little northeast.
The acre property, which is located behind the Tusayan General Store, has changed hands and is now owned by Logan-Luca LLC - sons of Halvorson and Italian investors.
The change of ownership is being depicted as the primary reason why the opposition group is against incorporation now.
"As near as we can tell the only thing that has changed is the ownership of the Campground/RV Park land and now the Tusayan Community Development Plan's concepts seem to now be wrong to the leaders of the Plan's effort. Why is that?" is the question posed in the Citizens for Tusayan Incorporation Choice materials.
According to Vail, the change is the result of four years of studying the question of incorporation, which at the time showed possible tax revenues of $2.5 million with a surplus of $500,000 per year. She said that buffer has shrunk due to a $200,000 increase to contract police protection from the county, as well as increased energy costs and the potential impact of gas prices on tourism.
She is now part of a promising effort by Red Feather to pass legislation that would would allow a sales tax levy under the auspices of a Community Facilities District. Currently such districts may only be funded by property tax.
She said that contrary to the claim that a unified Tusayan pushed incorporation in 1994, she wasn't involved in that attempt, which was later struck down as unconstitutional. In 2003, she did back legislation that enabled the incorporation not only of Tusayan but any community of less than 2,500 but more than 500 and within proximity of a national park or monument.
That move wasn't a commitment to incorporation but a way to open an option for exploration, she said.
"We had the right element of leadership in the legislature and all of the issues with the school and Xanterra," she said. "We had the right element of people. It was a good year to look at doing it. Why even study it if you don't have the option to do it?"
More like this story