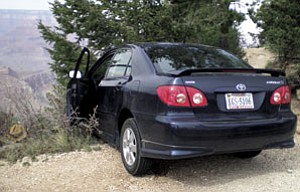 Originally Published: May 21, 2008 10:12 a.m.
Four months before an apparent suicide attempt at Grand Canyon last week, Travis Twiggs wrote an article for the Marine Corps Gazette about the torment he brought home from four combat tours to "the sandbox."
The 36-year-old Marine staff sergeant and his brother, 38-year-old Willard Twiggs, became the subjects of a manhunt on Monday, May 12, after allegedly stealing a Florida couple's rented vehicle at gunpoint east of Mather Point at about 7:15 p.m. Around four hours earlier, they had stranded their own car in an apparent attempt to drive it off the rim near Twin Overlooks on Desert View Drive.
Although Travis Twiggs had been absent without leave from the Marine Corps since early May, Emergency Services Chief Ken Phillips said there were no warrants out for him or his brother, though both had violent criminal histories. The vehicle was registered in Virginia and was not stolen.
Phillips said that after the carjacking, rangers immediately set up checkpoints and increased patrols. On Tuesday, May 13, they conducted a helicopter search around other overlooks.
"We were looking to see if they had tried to drive that vehicle off," he said.
The pair died in an apparent murder-suicide on Wednesday, May 14, after a 136-mile chase that
started near Yuma and ended in Pinal County.
Travis Twiggs joined the Marines in 1993 and trained as an infantry rifleman. Between 2002-2006, he served four combat tours, one in Afghanistan and three in Iraq. It was after his first tour in Iraq that he began to suffer debilitating symptoms that only abated upon his return to Iraq. On his final Iraq tour, he lost two Marines in his charge, compounding his torment.
Last January, he wrote about his battle in "PTSD: The War Within, A Marine Reflects on His Struggles with PTSD." According to his account, the only relief was in returning to a combat environment where the focus on mission and constant adrenaline flow crowded out his symptoms. Back in the States, he received counseling and eventually entered a three-month program where he was taking 12 medications a day at one point. He alluded to a possible suicide attempt after the fourth tour as well.
At the time of the article, his tone was optimistic. He had found some peace and purpose working with Marines again as an instructor at the Martial Arts Center of Excellence. He had written, "Don't get me wrong. The PTSD is not completely gone ... It's just that now I know how to deal with it."
He ended the article with his e-mail address and an offer of help to anyone with similar struggles. He left a wife and two young daughters.
Go to riograndevalleyvamc.com/agenda.aspx to read what Twiggs wrote about his struggle.
For blog entries paying tribute to his life and the tragic turn it took, visit www.healingcombattrauma.com/2008/05/
travis-twiggs-.html and www.healingcombat
trauma.com/2008/05/the-ptsd-obitua.html.