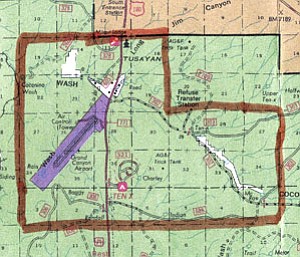 Originally Published: May 21, 2008 10:09 a.m.
With the question of incorporation on the Sept. 2 ballot, some community leaders and longtime residents have organized to oppose the measure.
Their political action committee, "The Price Is Not Right: No on Tusayan Incorporation," filed with Coconino County last week. Members include Clarinda Vail and John Thurston of Red Feather Lodge, Eric Gueissaz from Café Tusayan, and longtime residents Beth Seely and Becky Shearer.
"It made sense to look at the merits of incorporation but there are far more negatives than positives," said Seely. "Tusayan is doing good things to establish a better sense of community. After a six-year effort we just got 80 acres from the Forest Service for school expansion, ballfields and parks. We now have good design guidelines with Coconino County. What we don't need are a bunch of new taxes, a chaotic government or more urbanization on the doorstep of Grand Canyon National Park."
The County Board of Supervisors voted last month to put the question of incorporation on the September ballot after receiving petitions with 31 valid signatures from "Citizens for Tusayan Incorporation Choice." Best Western Squire General Manager Greg Bryan, who is leading the effort, has said that residents would benefit from the option of not being dependent on their employer for housing, and the community would realize new revenue streams through sales taxes and fees.
Vail said that the group's biggest concern is that in a small community with a limited range of industries, it would be difficult to seat a town council with members who have no vested interest in the issues they would decide.
"What if three have conflicts of interest?" she noted in a press release earlier this week. "There would be no quorum and the town could not govern or operate lawfully. This could subject the town and taxpayers to substantial lawsuits. These concerns are presumably why state law requires a community to have 1,500 people before being eligible to incorporate."
One item of business likely to come before a town council would be a request to rezone 21 acres of residential land for commercial development. Vail said that instead of developing housing on that land, incorporation backers have sought but failed to receive the county's approval to rezone.
She adds that with such a small population, the government's stability could be threatened by the ease in which recalls could be initiated with relatively few signatures.
Vail said that their group supports legislation currently before the state legislature to allow the community to establish a special sales tax district to raise funds for local development. The district would be able to levy a sales tax only and not be subject to the same requirements to provide police protection and governance that an incorporated community would have to meet. An incorporated community would also have the power to add new taxes and fees aside from a sales tax. It would also have the power to take property through eminent domain.
They also take issue with the proposed boundaries, which are six times the size of the fire district and 28 times Tusayan's current size. These boundaries were never studied during the four years that a task force met to explore the issue, Vail said.
"We need community consensus before we take on an undertaking with the consequences of incorporation. The split in the community and the costs associated with this particular incorporation proposal could make for a disaster," Eric Gueissaz, owner of the Café Tusayan said.
Direct questions or comments to notusayanincorporation@yahoo.com.
More like this story