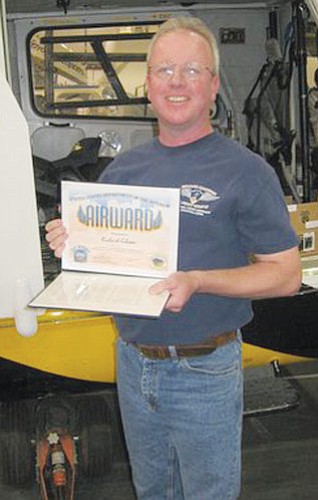 Originally Published: November 25, 2008 7:38 p.m.
Following up on a tip from a colleague, Papillion mechanic Richard Gibson was honored last week for locating a problem on the park's helicopter that could have led to tragedy.
Park officials presented Gibson with the U.S. Department of the Interior Airward last Wednesday. The award is given for recognition of professional performance during a flight emergency or for significantly contributing to prevention of an accident. Gibson and the helicopter are assigned to the park under contract with Papillion/Grand Canyon Helicopters.
He got a call from a friend who works at CalStar air ambulance service in California, warning him that a hard landing led to damage of the direction control system in the MD902 helicopter.
The model is the same being used by the park now. That model was also involved in a crash on the North Rim in October of 2003. The cause was attributed to the failure of another component in the direction control system.
According to Park Aviation Officer Mike Ebersole, the normal procedure would have been to report the possible issues with forward directional control cable up the chain and for that information to trickle back down as a service bulletin.
Instead, the next day, Gibson coordinated with park Helicopter Program Manager Jay Lusher to inspect the park's helicopter, discovering that the bracket holding the forward directional control cable was cracked. The aircraft was taken out of service and further inspection found that the cable itself was faulty, too.
"This is not the first time that Richard has performed additional inspections to ensure that the aircraft is in top condition for use," said Lusher. "I am proud to have such a competent and safety-minded mechanic on our contract and would fly any aircraft that he maintains any day."
More like this story