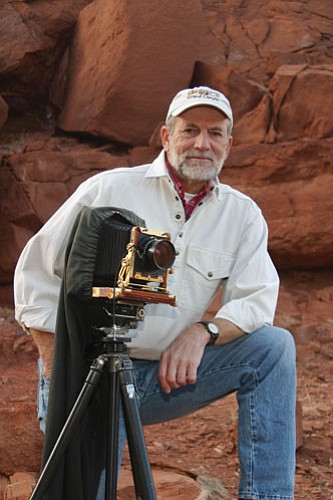 Originally Published: October 28, 2008 1:56 p.m.
When it comes to answering the quintessential tourist question, "What's down there?" few people have as much firsthand knowledge as photographer Gary Ladd. He has spent hundreds of days below the Rim and on the river capturing not only the Canyon's vastness but also its most intimate corners.
In a new book published by Grand Canyon Association, "Grand Canyon: Views Beyond the Beauty," he offers an overview geared especially to Canyon novices seeking to make that first scratch below the surface.
He said the idea for the book came to him while touring a viewpoint with a group he was leading.
"I asked one of them, 'What do you wish you had in your hands right now that would help you understand the Canyon,'" said Ladd. "He told me, 'I want to know what's down there.' That turned on the light bulb."
The book features a two-page spread on each of the viewpoints on the North and South rims. Names of temples, buttes and other features are highlighted on photos of the overlook, with a photo from a corresponding point from the Inner Canyon and text providing key history and geology facts.
"It starts with the viewpoint and journeys into the Canyon to see what's down there," said Ladd. "What does it look like at river level, what you're seeing from the Rim?"
Ladd came to Arizona in 1972, drawn by the photographs he'd seen of the west's distinctive landscapes. While he was interested in photography, he was working in astronomy, starting as a night technician at Kitt's Peak Observatory and eventually at the Naval Observatory in Flagstaff.
In his off time, he took photos and eventually sold his first - a shot of an observatory illuminated by a flash of lightning - to Time Magazine. At the same time, digital advancements were rendering some technicians obsolete, so he decided to pursue photography full time.
Since then, he says he's spent more than 500 days on the river, between 300 and 400 days on overnight trips and an untold number of day hikes. On assignment for Arizona Highways, he was permitted to hitchhike his way down the river, working his way down at his own pace. It also resulted in a book, "Time Below the Rim."
His other books include "Along the Rim" and "Canyon Light" as well as a quirky, self-published book on his hometown of Page, subtitled "Hub of the Visual Universe."
"Theoretically you can argue that it's ugly because it's artificial," he said of Lake Powell. "But if you can forget that and if you can just look at what it is in the frame of the camera, it is in itself unbelievably spectacular."
He has more than 30,000 Grand Canyon images cataloged and captioned, as well as 15,000 slides cataloged. He also has about 100,000 slides filed by date and trip.
With the advent of digital photography and photo editing wizardry - both of which he's resisted adopting - he said he's found that demand has dropped for the kind of large-format film photography that he does.
"I've been kind of run out a couple of different times by digital photography," he said.
More like this story