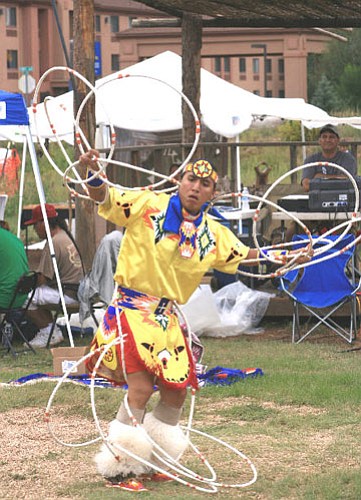 Originally Published: September 9, 2008 9:33 p.m.
The weather echoed the sentiments of the Peshlakai family as they remembered their son Champion Hoop Dancer Jameson "Sonny" Peshlakai on Aug. 31. But heavy rains and wet grass did not stop the annual Hoop Dance Contest event honoring Jameson - held every Labor Day weekend.
"Jameson was a good boy," Mae Peshlakai said of her son, who was lost to the family in an automobile accident in 1999. "He was a good dancer and a good artist. As a family, we decided that we would put on this annual Hoop Dance Competition in his honor instead of turning to alcohol to deal with our loss as so many others have done."
As rain closed in on the dance ground, the Peshlakai family treated drummers, dancers and vendors to an earth-oven roasted beef dinner complete with potatoes, corn, and dinner rolls, and the occasional tourist was served as well. The feast is a much-anticipated part of the annual event. Friends of the family served plates in the hard-driving rain, as everyone hoped for a break in the weather.
James Peshlakai reluctantly called for a postponement of the event until the following day, however when he and Emcee James Bilagody rolled back the carpet meant to serve as a dance ground, they found dry grass. James immediately called participants back to the arena, and announced the Grand Entry.
Several veterans from across the state brought in the colors; a young veteran from the Valley carried the American flag and Archie Ortiz, representing the Native American Vietnam Veterans Group of Tuba City carried the Arizona state flag. They were closely followed by hopeful hoop dance contestants.
Mae Peshlakai offered the invocation, and gathered family around her as the Flagstaff-based drum group, River Tail Singers with lead singer Gary Elthie, honored the family with a song. Bilagody invited the public at large to come forward to meet and offer condolences to the family.
With those tasks completed, the event that everyone awaited moved forward.
As the only entry in his division, Scott's placement was a given, but offered no diminishment of his skills. Scott said that dancing is what keeps him vital.
"I love to dance with young people," Scott said. "I spend a lot of time teaching and mentoring them. I also perform in many shows."
Scott began fancy dancing in 1962, and his skills took him to State and an appearance in the Walt Disney movie, "Daniel Boone."
"Now that's what you call multi-tasking," Bilagody said in between dance performances - when he wasn't openly coveting James Peshlakai's recently acquired top hat.
"Who is that Indian," Bilagody asked as James made his way across the arena to pass out ballots for the young men's division. "And look at that hat. I am going to steal that hat when he puts it down."
The hat also served as a container to draw names from to determine the order of dancers.
"Look, James has mutton in his hat," Bilagody called out.
"Tony Duncan took the Grand Champion award," James Peshlakai said in a later interview. "But we had a tie between J. Michael Crank and William Crank for the first runner up position. To break the tie, we challenged the two young men to a one minute dance using only one hoop. Out of that competition, J. Michael took first runner up and his brother, William, became the third runner up.
Cash prizes as well as the coveted gold buckle awards featuring an image of Jameson Peshlakai performing the hoop dance-the same image that graces a U.S. Postal Service stamp-were awarded to all of the winners. The buckles are the creation of silversmith Justin Morris.
"It was a great event," James proclaimed. "The open-microphone event on Sunday was really good. We had over 100 people under our canopy eating food in the rain, which didn't let up - we had some people going home, and the vendors were cleaning up their tables and merchandise up into the night.
"We had a man come out of the woods, Sidney Poona I believe his name was -he brought his guitar with him from Keams Canyon, and he played traditional songs. The mother of five-time World Class Champion Hoop Dancer, Derrick Davis from Hotevilla, attended the event, and she had a lot of fun.
Monday morning brought more rain, but the popular "cowboy and Indian" event went on as scheduled.
The clouds dissipated even as the event came to a close - the rain was considered a blessing. The retinue packed up and left Tusayan tired but satisfied - with thoughts already forming about next year's event.