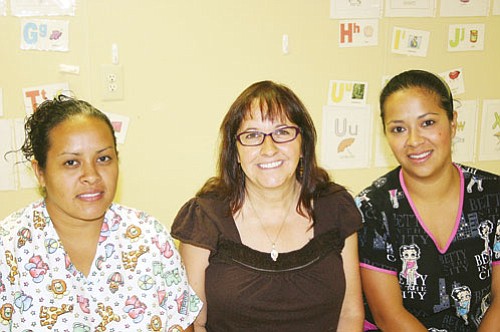 Originally Published: August 4, 2009 4:17 p.m.
GRAND CANYON, Ariz. - Teachers at Kaibab Learning Center will offer a new curriculum for parents when the school opens Sept. 1. Called Kids Sparks, teacher Judy Walker said the program will offer a number of fun activities for students. Walker will instruct four and five-year-old preschool students. Teacher Dayle Browning will instruct three-year-olds in the program, while teacher Claudia Cordova will assist both teachers.
"Kids Sparks is the curriculum that we will be using," Walker said. "We didn't use that last year. It's a year-round curriculum that has certain things for every month for every week. It's a curriculum with themes and activities already set in place."
Walker said she thinks the new curriculum will be beneficial to students at the school.
"We've been kind of using it this summer. It's got a lot of good things, a lot of good activities," Walker said.
Half days of preschool will be offered starting Sept. 1 from 8 a.m. to noon Monday through Thursday. Registrations fees are $25, with a weekly cost of $58, according to Alejandra Flores, who works as the center's director with Janice Rodriguez.
"We offer a full day that is $29 a day, from 7:30 a.m. to 5:30 p.m.," Flores said. "With infants it's different. For infants it's $165 a week."
Besides the registration fee, parents and guardians will also be asked to fill out a blue card and provide shot records. A drop-in rate of $35 is offered as well.
"They can just call us in the morning and if we have space available, we'll take them," Flores said in regards to drop-in students.
The center offers services for children aged six weeks to 12-years-old, Flores said. There are currently 10 employees at the Kaibab Learning Center, located at Mojave No. One within the national park. The center can be reached at (928) 638-6333 or via e-mail at klccanyonkids@gmail.com or klearning@questoffice.net. A school blog can found online at
www.kaibablearningcenter.blogspot.com. Donations are also welcome, according to officials, and can include toys, circle carpets and more. A school wish list can be found in the center's main lobby.
While there are currently about 30 students enrolled at the center, it is not surprising to find 60 or more at the school following the end of the summer break. Walker said students do not necessarily need to come all four days of the school week.
"They don't have to come all four days if they don't want to. They can bring their child one day a week. There are some kids who just come one day a week, two days a week," Walker said.
Browning said she has enjoyed her new position at the center and the friends she has made. Browning has lived in the Williams area for five and a half years with her husband. She's worked in various educational roles for over 30 years, including Montessori schools, group homes and other locations. She worked as the 21st Century After School Program site coordinator and lead instructor for the last five years.
"The reason I've been a teacher for 30 years is to plant the seed of empathy," Browning said.
More like this story