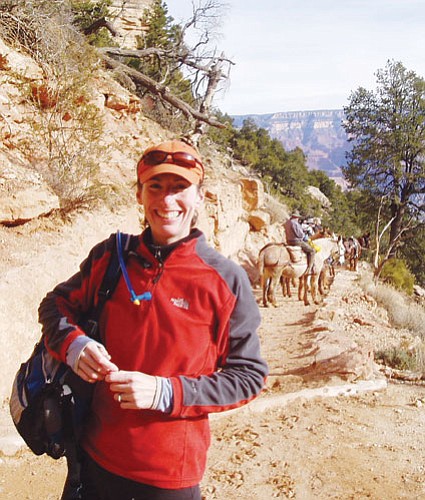 Originally Published: August 25, 2009 1:31 p.m.
GRAND CANYON, Ariz. - Officials with the Grand Canyon Association welcomed two new members to their ranks recently. Bonnie O'Donnell and Jeanne Jarecki were both welcomed into the local organization in two key positions. O'Donnell is the Grand Canyon Association's new development director. Jarecki will run the association's bookstores on both the South and North Rim.
As part of her position, O'Donnell will work closely with Grand Canyon National Park Superintendent Steve Martin, and Grand Canyon Association Executive Director Susan Schroeder, in efforts related to the association's fundraising partnership with the park.
"I used to work with Susan at NAU (Northern Arizona University). She is definitely a dynamic leader and I am excited to be a part of the team," O'Donnell said, adding that she is also excited to be working with Martin and the National Park Service.
"This is an exciting opportunity to work with one of the world's best resources," she said. "It's wonderful. I had my first board meeting over on the North Rim last weekend. These volunteers are a wonderful group of people to work with. It's a really fun job."
O'Donnell brings a wealth of experience with her into the new position, having worked at NAU for four years, and having worked in non-profit management and fundraising.
"We'll be working with the park to develop a list of fundraising priorities," O'Donnell said. "Ultimately my job is to take this out to the public and see where people might want to invest in Grand Canyon National Park. Right now I'm spending a lot of time learning about the park."
Jarecki, from Wauwatosa, Wis., worked for the Natural History Museum in Milwaukee prior to her move to Arizona with her husband,
"We both knew we wanted to work for a national park when all our children were grown up and out of the house for some amount of time," Jarecki said. "This was just a real good fit for us."
As regional manager for eight bookstores, she said she has been having a lot of fun in her new position, and new home, since moving to the area.
"It's been going really well," Jarecki said. "I'm not used to elk in my backyard and the president's visit was really interesting. I am enjoying it, I definitely am. We have a really strong staff with really strong skills."
The Grand Canyon Association's large selection of books is represented at stores throughout the Canyon, both on the South Rim and the North Rim.
"There's Canyon View, Verkamps, Yavapai and Kolb out here on the South Rim and there's Desert View and Tusayan Museum," Jarecki said. "We do have another store at North Rim and at the Kaibab Visitor Center. We have another small little store called Kaibab Bookstore. We have an office in the south rim. I'm out into all the stores."
Grand Canyon Association books and more information can be found online at www.grandcanyon.org.
More like this story