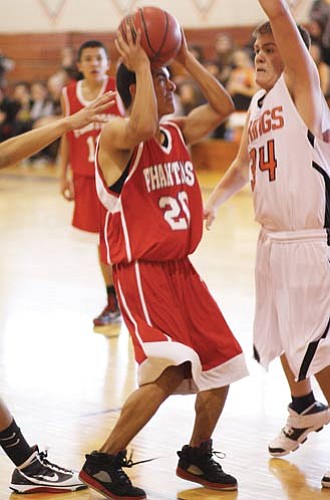 Originally Published: December 8, 2009 2:54 p.m.
GRAND CANYON, Ariz. - The short-handed Phantoms came up short in all three games played during their weekend tournament, held in Williams Dec. 4-5. The Phantoms began the holiday tournament Dec. 4 when they took on Williams. The Grand Canyon boys took a loss in the game, with a final score of Williams 73, Phantoms 15.
The loaded Williams Vikings poured in a high number of points against an undermanned Phantoms squad. Despite the return of senior Daniel Celis, the Vikings had their way in every aspect of the game. Jared Rulye led the team with four points.
The Phantoms went on to play Beaver Dam that same day and came away with their second loss following a 49-39 Beaver Dam victory. Although the Phantoms were up by nine during the third quarter, it proved to not be enough to hold off the boys from Beaver Dam. Celis had a nice game with 10 points and 10 rebounds, but it wasn't enough to counter balance the large number of turnovers that plagued the Phantoms all weekend.
The Grand Canyon boys took on Seligman to end their tournament play Dec. 5, losing the game with a final score of Seligman 45, Phantoms 43. The Phantoms battled with much intensity, but in the end they came up short against Seligman. The turnover bug bit the Phantoms again with over 20 turnovers recorded in the game.
With two starters just returning to the squad this weekend, the Phantoms are having obvious trouble incorporating players that haven't been at practice for the last two weeks due to suspensions for team rule violations.
"We got better every game." said coach Greg Walker "It's hard to be successful when we have over 20 turnovers per game." Walker also indicated that many younger players received playing time this weekend.
"The fact that many JV players got playing time may prove to help us in the future as they get more experience," he said.
The Phantoms had five players suspended for team rule violations. Four of the five suspended players returned to the team this week, but only two of the four played in the tournament due to academic ineligibility.
The winless Phantoms have much work ahead of them to get back on track. But Walker feels that, if the team can come together despite all of the setbacks, they have a good chance of winning their conference.
Come support the Phantoms in their next home game against Seligman on Friday. All fans will receive free red towels in the annual "See Red" day.
Only the Lady Phantoms play at home on Saturday.
More like this story