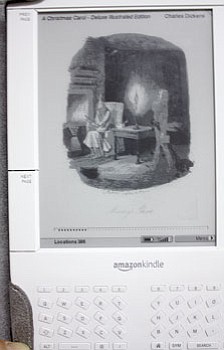 Originally Published: December 15, 2009 3:34 p.m.
When it comes to Christmas shopping in 2009, there are a number of exciting gift ideas on the market. For kids, of course, everyone seems to be talking about the Zhu Zhu phenomenon. Parents are frantically searching for those little hamsters, which have shot up in price (and dropped in availability in some areas), just in time for the holidays. The toys come with more accessories than what even a live hamster would need - and is liable to make this year's tree look like a pet shop come Christmas morning, at least it will for a lot of families in Arizona and throughout the nation.
For older kids, and adults as well, electronics are always high on the list. Top items in 2009 are similar to wish list items for last year, including the ever-popular Nintendo Wii and Apple's iPod Touch. One item that has risen to the top of many lists in 2009, however, is the e-reader. Thanks to the popularity of Amazon's Kindle devices, which includes the original Amazon Kindle, the Kindle 2.0 and the new Kindle DX, people are now seeking the readers as the must-have Christmas gift for those gadget lovers in their life. Other popular devices include the new Barnes and Noble Nook and the Sony Reader, among others that are expected to hit the market soon.
Once thought to be a treasured item for book lovers only, shoppers are beginning to see the overall appeal of the readers thanks to strong marketing efforts by retailers such as Amazon, Barnes and Noble, and Sony. Not only can the owner of such a device download great books, storing a whole room of literature in one hand, but they can also surf the web, download textbooks for school, and subscribe to magazines and newspapers. When it comes to e-readers, the plus comes in the shape of "e-ink" technology, which foregoes any form of backlight and makes reading far easier on one's eyes than can be found by reading from a computer screen or cell phone.
Early estimates predict a boom in the e-reader market in 2010, nearly doubling the roughly three million that sold this year. With competitive pricing, typically at $10 for a new release in digital e-reader format, as compared to a nearly $30 for a newly released hard cover, savings are good. That is once you get past the initial $250 to $350 e-reader investment. Another popular attraction for fans of the e-reader is the free content that is continuously offered to e-reader owners, such as classic literature now in the public domain. This means classics, such as Dracula and Oliver Twist, can be downloaded free of charge into one's portable reading device.
Problems, however, still loom on the horizon when it comes to the devices. Just as the music industry railed against MP3 players during their formative years, book publishers are figuring out exactly how to cope with the digital market. Prices on digital book downloads continue to eat into profits for some publishers, leading many to consider their options when it comes to the readers. Just as motion picture companies wait months and months before releasing their films onto DVD, publishers may soon make their books available in hard cover first and release their digital versions later. Whether this move would ultimately backfire or prove to be the solution remains to be seen. One thing's for certain, however, it wouldn't work for the Zhu Zhu generation.
More like this story