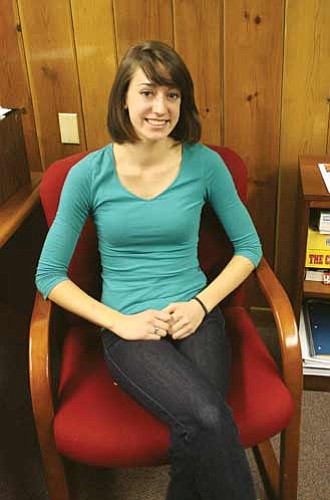 Originally Published: December 22, 2009 1:42 p.m.
GRAND CANYON, Ariz. - The four-hour bus ride to visit the home of the Lynx has not been kind to the Phantoms in years past. The Fredonia Lynx are a traditional 1A powerhouse including the women's basketball team who has won three out of the last four state championships (2005, 2007, 2008). On Dec. 18, the Lady Phantoms broke the "Lynx Jinx" with a fairly easy win over the defending champions - their first win in Fredonia in 13 years. The Ladies took the win with a final score of Grand Canyon 53, Fredonia 36.
Without the "do everything" star Madison Berry, who missed the trip due to flu-like symptoms, the Phantoms were happy to have a great overall team effort. The Phantoms were led by Senior Forward Miriam Bankston, who played like a woman among girls with 14 points and 19 rebounds.
"It was nice to see everyone step up and play unselfishly," said Phantoms Coach Dan Lopez.
On Dec. 19, The Phantoms headed up to the Nevada border town of Littlefield to take on the Diamond Backs of Beaver Dam High School. Tiffany Kerr led the way with 15 points against an overmatched Beaver Dam squad. The Lady Phantoms took the win in the match with a final score of Lady Phantoms 39, Beaver Dam 21.
Earlier in the week the Phantoms suffered a bitter 38-37 loss against their Highway 64 rivals on Dec. 15.
Tiffany Kerr had 17 points but it wasn't enough to stop a late rally by Williams. With three and a half minuets left in the game, the Phantoms had a 37-31 lead. Due to turnovers, lack of rebounding, and some questionable calls by the referees, they saw their six point lead evaporate. Much to the dismay of Phantom fans, a foul was called on Senior Forward Monique Striet with the game tied and only three seconds left on the game clock. One out of two free throws was made by the Williams player, which proved to be enough for victory.
"We can't blame the refs," Lopez said. "It wasn't their fault that we couldn't rebound and take care of the ball down the stretch."
The Lady Phantoms are in first place in the 1A West Division with a conference record of 3-0 and 6-4 overall. They travel to Tonopah High School in West Phoenix for a Holiday Tournament on Dec. 27-29. Their next home game is on Jan. 9 against Ash Fork.
More like this story