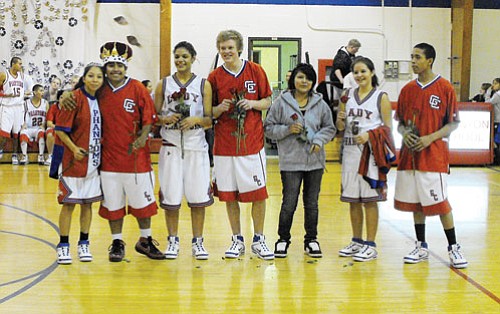 Originally Published: February 3, 2009 11:19 p.m.
The Phantoms returned to the Canyon for Homecoming weekend, with all but boys JV dropping games to Fredonia on their own court last Saturday.
The JV boys finished 55-27 against Fredonia.
High scorer was Andres Velazquez with 18. Jared Ruyle scored 12, Jonathan Yazzie scored 10, Talas scored 9 and DuVaughn Boone scored 2.
The Lady Phantoms lost to the Lynx, 33-50, mounting a competitive effort but it wasn't enough to help them recover from an anemic first quarter where they were outscored four to one.
Head Coach Dan Lopez said that the team lost ground early on, when three starters were benched for missing a pre-game meeting.
Miriam Bankston and Madison Berry provided most of the points, scoring 16 and 14 respectively. Chelsea Curtis scored 2 and Monique Streit added 1.
The varsity boys lost in a hard-fought match with the Lynx, 39-49. Coming out of the half trailing by 9 points, the Phantoms fought unsuccessfully to close the gap.
Daniel Trenchard led in scoring with 18. Daniel Celis had 7, Andrew Araiza had 6 and Dustin Curley and Larrin Talas had four each.
The JV girls lost to Fredonia 31-37 in a close match. Though they lagged at the half by 9 points to the Lynx' 20, they matched them in the third quarter and outscored them in the fourth.
High scorer was Streit with 8, followed by Josey Araiza with 7. Chrystal Vail and Marissa Timeche scored 5 apiece, Brandie Gomez scored 4 and Kelsey Wren scored 2.
Lopez said that the high school girls are expected to clinch fourth place in the 1A North Conference, earning a berth in the regional finals.
Boys Head Coach Greg Walker said that as of last weekend, the boys were battling with Ash Fork and Mogollon for fourth place and a slot in regional finals as well. Walker said they have to face Mogollon in away games on Friday and Williams at home on Tuesday, with games at 4, 5:30 and 7 p.m.
Regionals are in Flagstaff Feb. 13-14.
The sophomores won the competition among the four high school classes for the best-decorated corner of the gym. The seniors were second, juniors were third and freshmen fourth. The theme was "Go Green" and all materials had to be pre-used.
Homecoming royalty
King and queen were Cruz Caballero and Magen Timeche, prince and princess were Frederik Frick and Miriam Bankston, duke and duchess were Travis Dauphinais and Chelsea Curtis and count and countess were Ricky Saavedra and Jamie Dixon.
According to alumni like Clarinda Vail and Margaret Alvaredo, both of whom were named homecoming royalty when they were in high school, when Grand Canyon had a football team, Homecoming was held in the fall on the athletic field. Instead of decorating the gym, classes built floats and held a parade around the track. Lopez said that mud fights were also part of the tradition.
More like this story