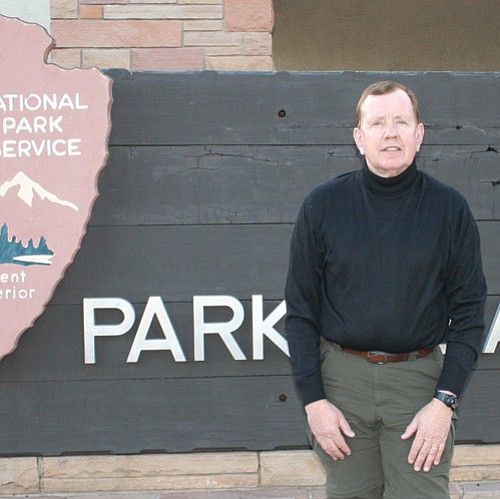 Originally Published: February 10, 2009 11:25 p.m.
After 20 years as a librarian and another 20 as a park ranger, Bob Audretsch has combined elements of both to embark on his third career - as an author, with his first manuscript due in August.
Audretsch retired on Jan. 29 from the park where he landed his first paying job with NPS and spent the bulk of his Park Service career. His admiration for the ranger profession started when he was around 10, when his family left his native Detroit to visit western parks in their pop-up trailer, and never really left him, he said.
But while studying at Wayne State University in Michigan, entry-level Park Service jobs eluded him.
"I thought from age 10 on that being a park ranger was cool," he said. "They knew about everything in the wilderness. But I could not get a summer job at NPS."
Guided by his other loves, for history and books, he ended up with a bachelors degree in history and a masters degree in library science.
After nearly 20 years as a librarian, he decided it was time to pursue his real dream. His first position with the Park Service was in 1987-88 as a volunteer at Chaco National Historical Park in New Mexico.
He landed his first paid position as a summer seasonal here in 1988. After that, he took a permanent position with Independence National Historical Park in Pennsylvania for a year, returning to work at Desert View in 1990. He has been here ever since.
His relationship with Grand Canyon started long before his career. It was woven into his family's history, claiming the life of an uncle on the Bright Angel Trail in February of 1939.
"I wondered how such a beautiful place could be responsible for death," he said. He came close to finding out during his first Canyon hike in July of 1977, when he went from the North Rim to the river and back in 24 hours.
"Although I was in excellent physical shape I was not used to the extreme dryness," he said. "While ascending the North Kaibab Trail in mid-afternoon I imagined three little green men calling me to follow them off the trail. Realizing I was hallucinating, and in order to occupy my mind, I began to count my steps and imagining numbers being written on a blackboard. I arrived at the rim safely having counted to over the number 7,000."
Those steps were the first adding up to more than 9,800 miles below the Rim, spent not only hiking and backpacking but also running in preparation for ultra-marathons. He completed his first rim-to-rim-to-rim (41.6 miles) in fall of 1992 with a time of 13:13:42 (the record is 7:51:23). Over the next several years until slowed by injuries in 1997, he did six more, running four and hiking two, and ran to the river and back more than 100 times with a best time of three hours, 21 minutes.
He also ran a 44-mile route from the South Bass Trail through "the jewels" - side canyons named Turquoise, Agate, Ruby, Sapphire and Topaz - a route he had hiked in 1981 over the course of eight days, covering it this time in 19 hours and 22 minutes.
A voracious adventurer, he's also summited more than 200 mountains, including three quarters of Colorado's highest 100 peaks and run in more than 90 ultra-marathons.
While he said he will miss telling visitors about the Canyon, he will still continue to tell its story.
A Civilian Conser-vation Corps exhibit that he helped develop for Kolb Studio is opening in Phoenix next week. He has since signed a contract with Grand Canyon Association to write a book on the history of the CCC at Grand Canyon with the manuscript due in August. After that book, he plans one on how Grand Canyon has inspired literature. It has its roots in interpretive programs on the Canyon and the arts that he started about five years ago.
He will make his home in Flagstaff with his wife Masha, and stepdaughter Karina.
More like this story