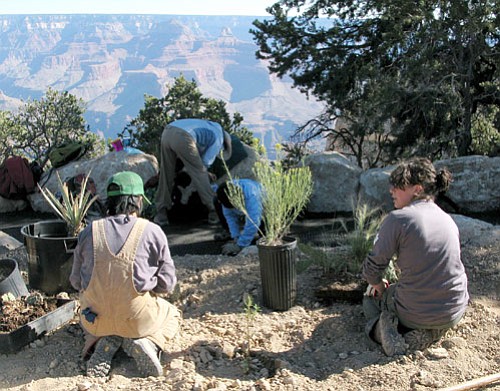 Originally Published: February 10, 2009 11:11 p.m.
Hermit Road in Grand Canyon National Park reopened on Nov. 16, after a nine-month rehabilitation. Visitors to the historic, scenic road are now able to enjoy a widened road, and improvements to shuttle-bus stops and to the Rim Trail. A new three-mile, multi-use greenway trail for pedestrians and bicyclists was also constructed.
The improvements to the roadway and the trail system will be obvious to repeat park visitors and will enhance people's experience when touring this spectacular section of the South Rim.
However, visitors may not realize that the Hermit Road project is also one of the largest vegetation restoration and rehabilitation efforts ever undertaken at Grand Canyon National Park.
Large team
Plant biologists and Vegetation Program employees from the park's Division of Science and Resource Management were extensively involved in every aspect of the project - from the initial planning and environmental review of the project proposal to salvaging plants in construction zones to planting native vegetation following construction.
Hermit Road was originally constructed in 1934 and 1935 by the Bureau of Public Roads and the National Park Service. The road was designed to have a rural character, providing views of the stunning canyon scenery and having native vegetation close to the roadway.
Long overdue
Although some minor repairs were completed, no major work occurred on the road for more than 70 years, and the road was subsequently in poor condition. Additionally, the lack of a formally defined trail along a portion of Hermit Road led to social trailing and trampling of native vegetation along the canyon's rim.
The Hermit Road rehabilitation project was funded by park entrance fees authorized under the Federal Lands Recreation Enhancement Act, the Alternative Transportation in Parks and Public Lands Program, and the Federal Lands Highway Program. Restoring areas impacted by road and trail construction is a primary component of the vegetation project along Hermit Road.
Habitat restoration
The Hermit Road project also provides park managers with an extremely rare opportunity to restore habitat near Maricopa Point for the sentry milkvetch (Astragalus cremnophylax var. cremnophylax), the only endangered plant species in Grand Canyon National Park.
"Vegetation Field Crew Leader Kassy Theobald and Horticulturalist Jan Busco have done an amazing job integrating vegetation planning into every facet of the Hermit Road project, particularly in working very closely with the contractors," said Science and Resource Management's Vegetation Program Manager Lori Makarick. "They have prepared a very detailed plan for restoring the vegetation that utilizes nearly every restoration method we have to ensure that these native plant communities return in a healthy and natural state."
Preparation
Prior to the start of construction in February 2008, Vegetation Program employees surveyed the Hermit Road corridor to check for the presence of rare plants and worked with Vicky Stinson, Grand Canyon National Park's Project Manager for the Hermit Road Project, to identify important plant-related construction concerns, such as maintaining existing roadside vegetation as much as possible.
Vegetation Program staff and volunteers salvaged plants from construction zones, such as Utah agave, banana yucca, fernbush, cliffrose and native grasses; they also collected seeds from these and other native species to use in the restoration program.
"Volunteers are essential to the success of our large-scale restoration work," said Theobald. "In fact, they are the lifeblood of such projects. Both individual volunteers and groups, such as GCA members during Members' Weekend, Sierra Club service trips, [and] Elderhostel service trips, have provided invaluable service to Grand Canyon's Vegetation Program in general and to the Hermit Road project in particular."
When road and trail construction by the contractor neared completion in early October, the vegetation work stepped into high gear. Much of the planting of salvaged plants and those grown from native seed is being done by a five-person Student Conservation Association Native Plant Corps Team.
SCA is a private nonprofit organization that offers conservation volunteer opportunities to more than 3,000 people each year.
Replanting
Vegetation crews will devote the majority of their efforts to replanting areas near major overlooks, such as Powell and Mohave points, where there were road and/or parking lot realignments to increase traffic safety or for resource conservation.
The single largest restoration site is at Maricopa Point, where the parking lot was removed, the Rim Trail was rerouted and a new shuttle-bus stop was constructed in order to provide additional habitat for sentry milkvetch.
Sentry milkvetch grows only in specialized habitat consisting of shallow soils in the Kaibab Limestone in narrow zones immediately adjacent to the rim of the Grand Canyon. One of the few known sentry milkvetch populations is near Maricopa Point, yet the habitat for the plant there was reduced in size by the construction of the Maricopa Point parking lot in 1935.
The SCA team will plant native grasses, native shrubs and other plants to restore most of the formerly paved areas at Maricopa Point.
A portion of the former Maricopa Point parking lot will be the focus of an additional restoration project specifically targeted to restoring habitat for the sentry milkvetch, with the ultimate objective of increasing the population there. A multifaceted project will seek to reestablish the limestone habitat that these rare plants grow in, and to propagate and plant companion species of sentry milkvetch, such as Tusayan flameflower (Phemeranthus validulus), as precursors to reintroduction of sentry milkvetch. Once the habitat is restored, a pilot project to test and develop techniques for the reintroduction of sentry milkvetch will be completed. Information gained from this project will form the basis for future actions in the sentry milkvetch recovery plan.
Project partners
The sentry milkvetch projects will be supported by a combination of National Park Service and U.S. Fish and Wildlife Service funds. The Grand Canyon Association is a partner in one of the U.S. Fish and Wildlife Service-supported projects.
This project will provide funds to the Grand Canyon Association, now the official fund-raising partner of Grand Canyon National Park, that will finance the construction of a passive solar greenhouse at the Division of Science and Resource Management's native plant nursery and will support an intern to work with sentry milkvetch.
This greenhouse will house an ex situ (offsite) collection of sentry milkvetch plants. Busco said, "The greenhouse-grown plants will produce seed and small plants which will be planted in the new habitat near Maricopa Point. We are grateful for the opportunity to partner with the Grand Canyon Association in this important aspect of the recovery plan for this species."
Makarick added, "We will be monitoring the vegetation components of the Hermit Road project for the next 5-10 years in order to determine the success of the various restoration methods and then refine them. The lessons we learn from this work can be applied to future restoration projects at Grand Canyon."
She concluded, "I fully expect to see great results along Hermit Road. The most exciting component is having the rare opportunity to expand and create habitat for an endangered plant species. Rather than glancing at the recovery plan document for sentry milkvetch on a shelf in my office, we are actually initiating actions that could turn around the fate of this tiny plant that surreptitiously guards the canyon rim. This project could make a lasting mark for future generations of both sentry milkvetch and park visitors."
(Editor's note: Allyson Mathis is the science and education outreach coordinator for the Division of Science and Resource Management at Grand Canyon National Park.)
More like this story