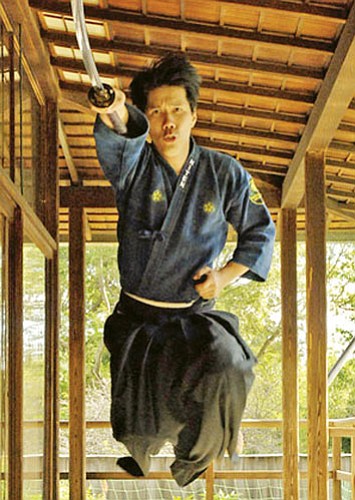 Originally Published: July 14, 2009 2:49 p.m.
GRAND CANYON, Ariz. - Ever pictured yourself holding a Katana sword, the traditional weapon of the Samurai? For those who have, and even for those who haven't, the Falling Leaf Dojo at Grand Canyon now offers the traditional Japanese sword class for anyone 16-years-old and older. Longtime resident Luis Garcia, who has been working on the art form for roughly seven years, carefully instructs each class.
"I started with Aikido first, then I went into the development of Aikido," Garcia said. "In Aikido you're expected to read a lot. It's a philosophical art. As you read the history, you find it was developed as open hand (techniques) in disarming a sword."
The idea intrigued Garcia, leading him to learn more about wielding a sword.
"I found Kenshin Dojo in Prescott," Garcia said. "I've been with them four years already."
As an offshoot of the Prescott group, Garcia founded the Falling Leaf Dojo for individuals at Grand Canyon. Locally, he is also a board member for the Kaibab Learning Center and volunteers with Grand Canyon High School. He's worked for Papillon for 16 years. Samurai classes meet each Thursday from 7-8 p.m. at the Grand Canyon Rec Center. Registration for an introductory class is $30, though discount rates for families are offered. For more information on the class, call Garcia at (928) 606-6142 or e-mail him at m1a1lg@hotmail.com.
Wooden Bokens, as well as sheaths, are issued to new dojo members at the time of their enrollment. Monthly fees for the class are $20 following the initial enrollment cost, Garcia said.
"The class is structured so that you will begin the basic cuts. How to grip the sword, how to actually cut with the sword," he said.
Other forms will come later, including the Japanese "Kata" cuts.
"That's the foundation. The art itself is a very slow paced art," Garcia said. "It's not about speed whatsoever. Some of the sensei's have been doing this for 60 years. There are ranks, but we don't really base it too much on a rank, but more so on the forms and self control. We're looking for perfection."
Classes begin with big movements, which progress into smaller functions, such as facial expressions, hand movements and more.
"We scrutinize everything," Garcia said. "We do have sensei's from Japan coming and they are really strict on how we perform our movements. It is a very hard thing to do. It's more mind over body control."
By learning the way of the Samurai warrior, students in the discipline learn much in the way of self-control, Garcia said.
"The mind over body. It's similar to Yoga, because you have to get your body to move in a certain direction. It's hard to describe, but basically you are trying to manipulate the outside world and make it perfect," Garcia said. "It is a workout in itself. It is physical. You have to have good legs, good back and overall good condition of the body."
More like this story