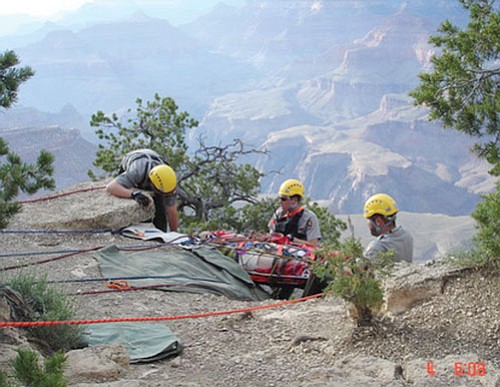 Originally Published: June 5, 2009 9:33 a.m.
GRAND CANYON NATIONAL PARK, Ariz. ­- A 38-year-old woman was rescued Thursday afternoon after falling about 50 feet near a popular viewpoint in the park.
The park dispatch center received two 911 calls at about 4 p.m., reporting that a woman slipped and fell over the edge about a quarter mile west of Mather Point.
Rescue personnel rappelled down to the woman and secured her so that they
could assess her injuries. Once she was stable enough to move, the woman
was packaged in a litter, and park staff used a rope haul system to pull
her up to the rim. She was back on the rim by 6:30 p.m.
The woman was transported by Classic Lifeguard Aeromedical Service to the
Flagstaff Medical Center where she is being treated for non-life-threatening injuries.
While there are fences and guardrails immediately at Mather and other designated viewpoints along the Rim Trail that runs along the Canyon's edge, there are no man-made barriers along most of its 14 miles. Signs warn of the danger in multiple languages.
More like this story