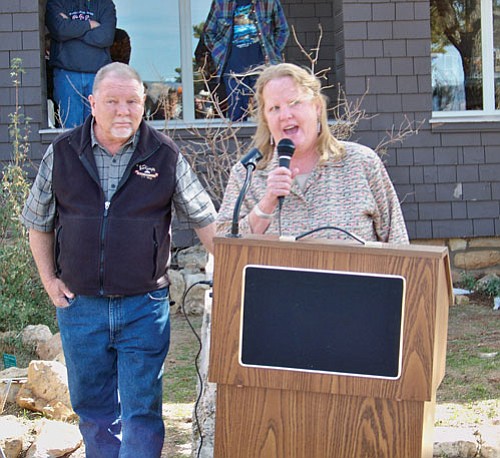 Originally Published: March 3, 2009 7:47 p.m.
The park celebrated its 90th birthday last week with cake, a condor and the cementing of a legacy in a ceremony on the Rim in front of the new Verkamp's Visitor Center.
Speakers included Park Superintendent Steve Martin, members of the Verkamp family and Grand Canyon Association Executive Director Susan Schroeder.
Sen. John McCain and Rep. Raul Grijalva sent representatives. Supervisor Carl Taylor and John Stark and other Grand Canyon Association board members were also present, as were numerous residents, employees and visitors.
At the tail end of the ceremony, a condor appeared and soared over the crowd.
Since 1893, Grand Canyon had been protected, first as a forest reserve, then as a national monument. The National Park Service was just three years old when President Woodrow Wilson signed Senate Bill 390 on Feb. 26, 1919, designating Grand Canyon as a National Park.
"Starting in the late 19th Century, people knew that this was a special and spectacular place and that we needed to do things to protect the landscape," Martin said. "President Roosevelt came to this area and said we had to preserve it for future generations."
As interest in tourism grew around the start of the 20th century, entrepreneurs also saw an opportunity. One of them was John Verkamp, who came from the midwest to northern Arizona to seek his fortune. He set up shop on the Rim, first in a tent and not long after in the building that still stands today.
For a century, three generations of Verkamps managed the store on the Rim. When they declined to rebid on their contract two years ago, it marked the end for the longest-running family-owned concession in the National Park Service.
Rather than bring in another concessioner, the Park Service instead converted the building into a GCA bookstore and visitor center that interprets the human history in the settlement and building of the Grand Canyon community.
Over the past century, the family was instrumental in getting the Community Building, clinic and Shrine of the Ages built.
They also served the community on the School Board and in local service clubs, as well as with donations of thousands of dollars to local needs.
Schroeder acknowledged the relationship with GCA that made the new visitor center possible.
"The park partnership is very wonderful in this building," she said. "It's great to be part of that. I'd like to thank the park and the Verkamp family. We will try very hard to continue giving the great information that you all gave when you were here in this space."
John Verkamp described life "minding the store on the Rim," where he and four other siblings shared one small bedroom, and a family of seven shared a bathroom. They followed a routine every morning, raising the flag, putting out Navajo rugs ("in the old days when people didn't steal things," he said) and picking up trash around the store. They helped out, unloading merchandise and tending to the rush when evening dances at Hopi House finished.
Susie Verkamp wished the park happy birthday and thanked both them and GCA for their support.
"My dad used to refer to both the other concessioners in the park and also the Association as 'the competition,'" she said. "I would like to wish the competition well, and I hope that bookstore really thrives and has abundant resources that can be put to the service of the park."
She acknowledged the staff, "that worked down the stretch and just brought us to a beautiful conclusion in a most thorough and good way." She also thanked the American public, saying that in the course of her life, she's run across people who remember being in Verkamp's and buying something.
"I always say 'thank you, you put me through college,'" she said. "All my father ever wanted from this place was to make a good living for his family and he certainly did that. I think we've been very blessed, personally, I feel very honored to be able to give this birthday present back to the American public and this dear building, there's been a lot of life lived here. It's been our living room and I hope the public enjoys it as their living room on the Rim."
Mike Verkamp noted that they perservered, despite efforts to move the business from the Rim.
"A pivotal moment was when dad was offerend an opportunty to build a store in the Mather Center (Market Plaza) in the late '60s," he said. "The fine print said, yes, you can build a second store but you've got to give up this one. When you're 60 feet from the Rim and you've got a 96-space parking lot in the historic core, maybe that was a better deal than moving out there with the bank and the post office. I think that's why we're still here. Now we have a situation where this building is going to outlive, by many decades, my generation. I hope it will be a place where grandsons and my kids can say, 'My dad lived there, my grandfather lived there. My great grandfather built this place.'"
Along with his management team, Martin also mentioned Rita McCreary, Cliff Asselin, Jan Balsom, Kim Besom, Colleen Hyde, Mike Quinn, Liz Stevens, Patty Brookins, Chris Maragos, Eric Palmer, Kim Buchheit, Mike Anderson, Jennie Albrinck and all of the members of the GCA who contributed.
He also thanked Arizona's Congressional delegation for their support.
"We can't do anything without great support from Congress. Congress established these parks and they provide us the means to carry on," he said.
More like this story