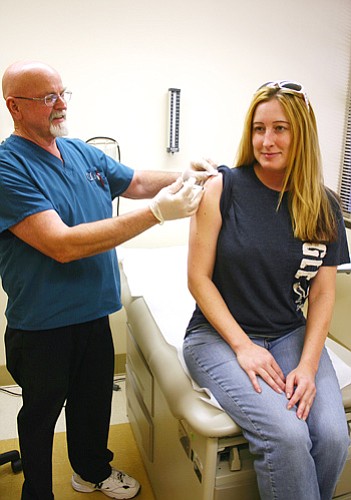 Originally Published: October 6, 2009 2:22 p.m.
GRAND CANYON, Ariz. - As the nation prepares for the arrival of the 2009 flu season, health care officials are ramping up their efforts to inform the public about the benefits of immunization and staying home when sick. With a high number of early flu cases already reported, combined with a second strain of flu, health officials are urging the public to get flu shots this year. Besides seasonal flu, the H1N1 flu is also making the rounds throughout the state of Arizona and the nation. At the Grand Canyon, vaccines for both regular flu and H1N1, once referred to as Swine Flu, are expected by the end of the month.
According to Andrew Saal, Chief Medical Officer for North Country HealthCare, vaccines may be limited in the first few weeks, but should be widely available in November. North Country HealthCare operates the Grand Canyon Clinic and 10 other clinics across northern Arizona.
"We have the vaccine coming. We have seasonal flu vaccines, which we always recommend," Saal said. "H1N1 starts filtering in in the coming weeks. H1N1 is a unique strain of the flu. Very, very few people have immunity and it causes increased illness and death compared to even regular flu. This new strain may cause up to twice that much. H1N1 should be respected, but not feared. Common sense prevention still works. Most people who get H1N1 will go through it and do just do fine."
A number of flu clinics are planned for the Grand Canyon area, including a clinic at the Grand Canyon Recreation Center Oct. 30 with Xanterra. The clinic is open to everyone and will be held from 9 a.m. to noon and from 1-5 p.m. An H1N1 clinic will be held at the Grand Canyon Clinic Nov. 13 at a cost of $10. Three hundred doses will be offered during the clinic.
While a planned clinic at Grand Canyon School had to be rescheduled due to a later than expected vaccination arrival date, a clinic is still planned. A date for the clinic, however, has yet to be determined. In the first few weeks following the arrival of the vaccine, Saal said those in high risk areas will be the first to be vaccinated. Those in the high risk groups include pregnant women, children and those with chronic illness.
"The supply should be full as we head into November, so eventually anyone who wants one should be able to get one. In the first weeks we're targeting people in the high risk (areas)," Saal said. "You should never underestimate seasonal flu, because it kills 36,000 Americans every year, in particular the very old and the very young, and people with chronic illnesses, such as people with diabetes and asthma. There are many myths about getting the flu. You have to remember that a sore arm for the day beats lying in a hospital bed for a week."
Health care officials have also begun to step up their educational efforts, particularly when it comes to staying healthy and what to do when you become sick.
"We're working regionally with the Coconino County Health Department and other people. We have stepped up our education efforts," Saal said, adding that he has been working closely with other area health centers as well, including the Williams Banner Health Care Center.
"We're collaborating closely with them," Saal said.
The Grand Canyon community itself, Saal added, is always at risk for disease and illness due to the sheer number of visitors who flock to the area from all corners of the world.
"The Grand Canyon community has always been at the crossroads of the world and thus tends to see more infectious diseases than one would expect to see in rural Arizona," Saal said.
According to estimates from Coconino County Health Officials, over 58 cases of the H1N1 virus has been confirmed in the county, with one death resulting from complications associated with the virus. Roughly 212 deaths have been linked with this illness in Arizona.
For more information on flu vaccinations at Grand Canyon, call the clinic at (928) 638-2251. More information on H1N1 can be found online at www.cdc.gov/flu/swine of by calling 1-800-CDC-INFO.
More like this story