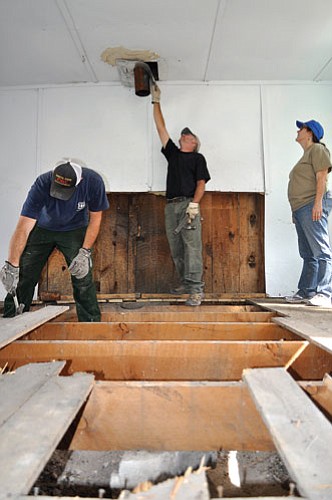 Originally Published: October 13, 2009 1:59 p.m.
FREDONIA, Ariz.- Contractors working with the North Kaibab Ranger District of the Kaibab National Forest have begun restoration work on the historic Jump Up Cabin, which overlooks Kanab Creek Wilderness on the southwest flank of the Kaibab Plateau. Built in 1906, the same year Teddy Roosevelt designated the Grand Canyon National Game Preserve; Jump Up Cabin is the oldest existing ranger station on the plateau.
The work is made possible by an allocation from the American Recovery and Reinvestment Act of 2009 for restoration efforts at Jump Up and on the Dry Park Cabin and the structures at Big Springs. Contracts will go to bid later this year for the other two projects.
The restoration largely consists in replacing the old flooring, repairing interior walls, installing a new wood stove, some foundation repair and exterior staining.
Fredonia resident John Azar is performing the restoration with assistance from the North Kaibab Ranger District. Materials have been purchased locally from Lumber Plus Home Center & Builders Supply and Heat Wave Fireplaces & Spas, of Kanab, and Canyon Country Mill & Resources Inc. of Fredonia.
According to Connie Zweifel, North Kaibab archaeologist, the cabin was one of a handful of structures across the plateau built for forest rangers, each cabin about a day's horse ride apart. Only two remain today. The other is at Jacob Lake.
The original building materials came off the Kaibab, she said, with windows and roofing brought in by wagon from the railroad station at Marysville, Utah.
Over the years the cabin has often been used by ranching permittees and more recently as a camping shelter by forest visitors. The cabin sits at the trailhead for Ranger Trail No. 41, which explores Kanab Creek Wilderness.
Work on Jump Up Cabin is expected to be finished sometime this year. The work at Dry Park and Big Springs will likely begin in the spring. Under federal guidelines, all projects funded by the American Recovery and Reinvestment Act must be completed by September 2010.
To learn more about bidding on government contracts, go to www.fbo.gov.
For additional information on the North Kaibab Ranger District, please contact Patrick Lair, Public Affairs Specialist (928) 643-8172.