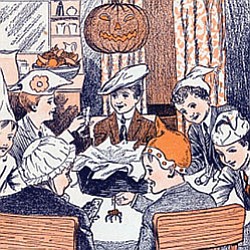 Originally Published: October 20, 2009 11:18 a.m.
Every year is a party at Halloween. Most children, both the young and old ones, take full advantage of the opportunity to dress up in weird, cute, and scary outfits every Oct. 31 and this year is shaping up to be no different. It's likely parents will see a mixed bag of characters running around northern Arizona this year, from Indiana Jones and Optimus Prime, to vampire queens, mermaids and beyond. As with every year, there are a few tips parents should keep in mind when it comes to making Halloween a memorable occasion for all, such as feeding children a healthy dinner prior to heading out, which many believe will keep them full enough not to snack on their treats before an adult can check the candy out.
When it comes to Trick or Treating - that one day where kids get to wander around after dark dressed in crazy costumes, it is always a good idea for a parent or responsible adult to tag along. It's never a bad idea to attend a local event, such as a school carnival, as well. Not only will it help the event itself, but it will also help draw out the Halloween experience out for children brimming with ghostly excitement. A number of events are planned in the Grand Canyon area this year (see Page 1B), such as a Grand Canyon School Carnival scheduled for this Saturday night. The event will be held at the school from 6-9 p.m. and will feature a number of spooky thrills, including a cakewalk, food, games, face painting and even a haunted house. A Halloween Party will be held Oct. 31 at the rec center as well, which will include a dance and costume contest. The party will be held from 9:30 p.m. and go until midnight. An entry fee of $2 will be charged, though those who attend in costume will not be charged.
Running around in the dark, usually with a mask obscuring your vision, can be a tasking effort for grown ups, let alone for younger children. A few simple tips to help avoid unnecessary accidents this Halloween include making a costume's eye holes big enough for decent peripheral vision and keeping the feet clear of tripping hazards associated with a long costume. Sharp objects on a costume should be avoided, or dull enough not to cause injury should a child fall.
When it comes to carving those fantastic Halloween pumpkins, always remember to keep sharp knives in the hands of a responsible grownup. While pumpkin carving kits are recommended for use at Halloween, adult supervision is always recommended. Also remember to keep those Jack O' Lanterns in a safe spot and far from visiting Halloween costumes.
More like this story