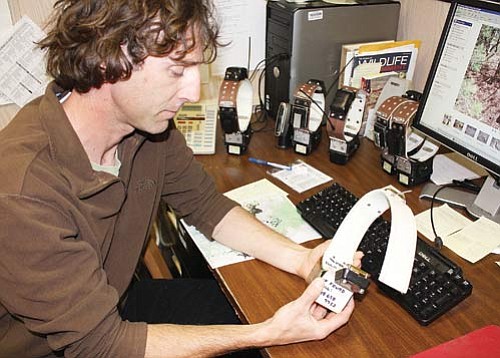 Originally Published: April 27, 2010 1:46 p.m.
GRAND CANYON, Ariz. - Mountain lions, like many of the people who visit the Grand Canyon National Park, have a thing for the South Rim. Of the five currently being tracked in the area, most have made their way to the rim's edge and back into the forest surrounding the area. They give the village area a wide berth.
"We've had 20 mountain lion caused human fatalities since the year 1890," said Brandon Holton, wildlife/human interactions biologist with the national park. "That's North America wide."
In comparison, there have been four documented vehicle-caused mountain lion deaths, in Grand Canyon National Park alone, since 2001, Holton added. Those deaths, he said, have almost always occurred on roads along the South Rim near the edge of the Canyon.
"They like the rim habitat. They also like to go just over the rim to make day beds and hang out. They like the views, too," Holton said. "There is almost a necessity here to cross this road. I can guarantee you we've lost more cats on this road, we just haven't found them. The survival rates here for Grand Canyon cats is barely sustainable, about 70 percent. You generally need a 70 percent annual survival rate in order to have a sustainable population."
Holton will share his knowledge of these large cats Friday when he gives a free lecture before the start of Wildlife Day, which will be held in Grand Canyon National Park throughout the day on Saturday. Holton's lecture will be held at the Shrine of Ages beginning at 7:30 p.m., according to Allyson Mathis, science and education outreach coordinator for the National Park Service (NPS) at Grand Canyon. Mathis has been instrumental in bringing the lectures to the South Rim.
"The evening before Wildlife Day, Brandon is giving a lecture on mountain lions, which will be similar to the Conversations on the Edge lecture for Flagstaff. This year, what we've done is we're getting the Flagstaff lectures here on the South Rim. For example we have Mike Kearsley's 'Mapping the Green' lecture on Monday (at 8 p.m. at the Shrine of Ages)," Mathis said.
Holton will also speak in Flagstaff May 5 at Cline Library on the campus of Northern Arizona University. His free lecture there will begin at 7 p.m.
In his upcoming talks, Holton said he would focus primarily on cougar ecology, both at the Grand Canyon and in other areas.
"That's being done with USGS and the National Park Service. We've kind of combined things since I came here about a year and a half ago," Holton said. "I had previously been working with Dave Mattson on that project. I will be talking about cougar ecology, predator/prey dynamics, demography, survival rates, how these cats move, they're behavior."
Since around 2003, 22 adult mountain lions have been collared and tracked. Five cubs have also been documented.
"Right now, on air, I'm tracking five different cats, four males and one female, and they utilize Grand Canyon habitat along the rim as well as Forest Service land south of the Grand Canyon boundary. I'll be talking about their home ranges," Holton said.
Holton became involved in the mountain lion effort while looking for a graduate program in 2003. As part of the program, Holton tracks collared cats throughout their territory and studies their behavior. An example of a collar would be one made by Telonics, Holton said, which feature VHF antennae (which send out a radio signal), a GPS unit, a satellite antennae and more.
"I program these collars to collect six GPS points a day and, once a day, this antennae uplinks with Argo satellite and transmits the six points from the collar to the satellite, then sends it to a base, and from the base station it sends it, essentially, directly to my e-mail. I get as close to real time data as possible," Holton said. "It's usually about 24 hours late, but that's quite excellent. You're getting very close to real time data on these cats, you can actually walk in on these cats, you can get better ideas of what these guys are actually consuming, how long they're staying on kills, how much of the kill they're consuming."
Mountain lions, he added, are constantly on the move.
"They have huge home ranges, especially the large males. When they're in the same area, over multiple hours or multiple days, they are there for a reason. The rationale is that they have almost always made a kill," Holton said. "You wait for them to move off and then you kind of move in to see what they've killed. More times than not you walk directly to the kill. Around here it's primarily elk, followed by mule deer. I've even documented them taking a fair amount of coyotes."
The females, he said, are the almost exclusive hunter of coyotes.
More like this story