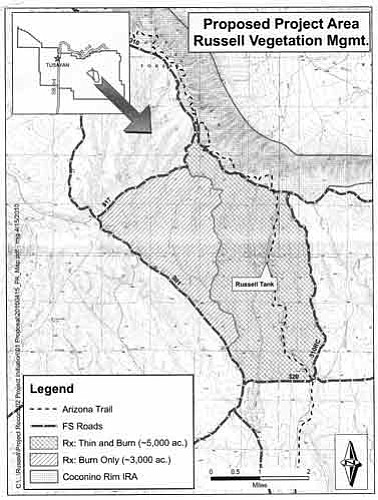 Originally Published: April 27, 2010 2:09 p.m.
TUSAYAN, Ariz. - In an effort to develop a healthier forest in the Tusayan District of the Kaibab National Forest, officials are proposing a combined thinning and prescribed fire treatment in an area roughly 15 miles southwest of Tusayan. Called the "Russell Vegetation Management Project," the treatment will cover roughly 8,000 acres of national forest land. A public comment period on the project is currently under way, according to Heather McRae, forester with the Tusayan Ranger District.
"We're asking for comments by May 19. They can provide comments by either coming in the (Tusayan) office, there's e-mail addresses provided in the letter that went out, they can call me and give me their comments over the phone, there's lots of different ways that they can comment. If they would like additional information, once again they can call me and I can mail it to them or fax it to them, or they can stop by the office and pick up a copy the information that is available," McRae said.
During the initial scoping period, McRae said input is sought from the public as well as from other concerned agencies.
"Other agencies are providing input as well, Arizona Game and Fish, and anybody who might have some sort of interest as far as what's going on out there," McRae said. "We would like the public to be involved in our planning process in knowing what's going on out there and providing their input. Any sort of comments they have, after the comment period, we're going to go back and review those comments and make any sort of adjustments we need to, to our proposal. Then there will be a notice and comment period following that. We're hoping to have all of our planning efforts done by the end of September and be able to start implementation following that."
The project is located about 11 miles east of Highway 64 and 12 miles southeast of the community of Tusayan. Project objectives include improving wildlife habitat, improving forest health and reducing wildfire risks in the area.
"It's a part of our continuing planning effort on the district. It's basically to reduce the risk of uncharacteristic wildfire. There's private property right near the project area, the Arizona Trail runs right near the project area, it surrounds Russell Tank, so there's public out there a fair bit amount of time, so we want to provide for firefighter and public safety in the event of an uncharacteristic wildfire out there. We're also improving forest health, providing improved wildlife habitat out there," McRae said. "We're providing products to the public. As a result it is all non-commercial thinning out there. We're concentrating on the smaller diameter trees for removal, leaving the larger trees behind. As a result of that we have a lot of wood that's left over, so we're going to be providing firewood permit to the public."
She said harvesting of Christmas trees would also be a part of the project.
"Some of the areas that we are proposing management for, we're doing some burning and then we'll be doing some thinning, following up with more burning. There's areas where that initial burn entry has already taken place from a past project, so we could go ahead and start the thinning and then there's another area where it's just burning only," McRae said. "We have a lot of projects going on in town, focusing on the wildland/urban interface. This one6023 is a little bit more removed from town to give us some opportunities for smoke management. If it's not a good day to be burning in town, then we've got some opportunities away from town. We still have private property in that area and a high public use area, so it is still a focus for us to get those areas treated."
More information on the project can be found online at http://fs.usda.gov/goto/kaibab/russell. Questions and comments can be mailed to Heather McRae, Forester, Tusayan Ranger District, P.O. Box 3088, Grand Canyon, AZ, 86023-3088 or by calling (928) 635-8232.