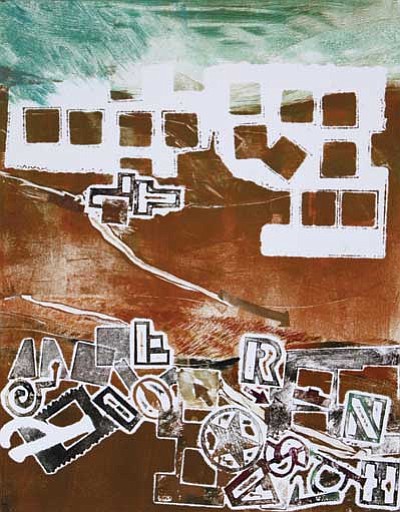 Originally Published: December 7, 2010 4:06 p.m.
GRAND CANYON, Ariz. - Grand Canyon National Park is pleased to be hosting December south rim artist-in-residence, painter and installation artist Rachel Wilson (www.somewhenstudio.com).
Wilson, originally from Iowa City, Iowa, has lived in Flagstaff for the past 30 years, making it her home base for her regional and international artist adventures. She graduated from Penn State University with a degree in anthropology and studied art at Penn State and Shippensburg State University, as well as Northern Arizona University in Flagstaff.
Wilson is among this next season's 13 artists, selected from a very competitive field of 85 mostly mid-career artists who applied to the south rim program this year. The park is delighted to welcome our first Flagstaff artist into the program.
Wilson is a painter and monotype printmaker who recently started creating installation art using painted and manipulated fiber and mixed materials in large-scale gallery and outdoor installations. Her most recent Flagstaff exhibits include a solo installation at Coconino Center for the Arts in August and September, and a group show at La Bellavia Restaurant in November. She works full time in her studio, and also offers workshops in mixed media and monotype for both students and adults. She has also served as curator for exhibits in the Flagstaff and Phoenix areas.
Wilson's work has garnered many awards including an invitation to participate in the Biennial Sculpture Exhibition in East Haddem, Connecticut and a Professional Development Grant from Arizona Commission on the Arts to attend an artist-in-residence in Mt. Bruce, New Zealand.
While at the Grand Canyon, Wilson said she intends to work on large, multilayered and segmented painted fabric structures that will explore the idea of geological strata through time, as seen in the layering of translucent fabrics and symbolic representation.
"Though I have lived in Flagstaff nearly 30 years and am familiar with a good deal of the ecology and history of the Colorado Plateau, I welcome this residence opportunity to not only live with the beauty of the Canyon, but also to take advantage of the Park's Museum Collection and Research Library," she said. "I hope to find interesting sources of design and ideas new and old; exploring the archives, as well as current regional literature and conversations with Park staff. I intend to concentrate on developing symbols representing geologic layers, fossil forms, archeological finds, as well as modern plants and animals, not forgetting today's park and its commercial life."
While in-residence, Wilson will be working with local second and fourth grade students in hands-on workshops, teaching them painting and printing on fabric. An exhibit of her work can be seen in the Park Headquarters lobby through the month of December from 8 a.m.-5 p.m. daily, including Christmas. In the studio, Wilson will translate her local research into the beginning of a new, large-scale fabric installation.
For more information about the artist in residence program and application guidelines, visit www.nps.gov/grca/supportyourpark/air.htm. Applications for the next round of selected artists will be accepted postmarked between Feb. 1 and April 2011.