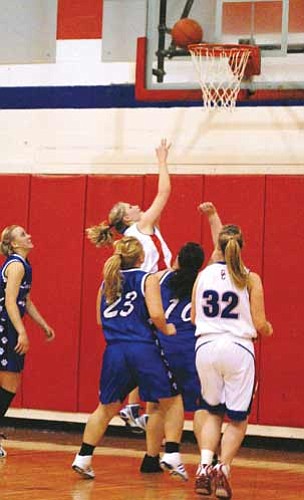 Originally Published: February 2, 2010 2:32 p.m.
GRAND CANYON, Ariz. - It's been a long time coming for the Lady Phantoms basketball program. Thirty years have passed since the last conference championship was won. Last weekend, the Lady Phantoms clinched co-championship honors with wins over Beaver Dam and Fredonia.
"I'm really proud of this team," said coach Dan Lopez. "We have a great group of kids that work hard in the classroom and on the court. They really deserve it."
On Jan. 30 the Lady Phantoms beat the last place Beaver Dam Diamondbacks 44-20. The Lady Phantoms started off slow, even though they were playing a team that hadn't won a conference game yet this season. With the not-so-subtle urging of Coach Dan Lopez, they were able to put the game out of reach in the fourth quarter. Madison Berry led the way with 19 points and 11 rebounds.
"We can't afford to play down to our competition," said Lopez. "We need to be more focused."
It was "Senior Night" on Saturday. All the senior athletes and their parents were honored with roses prior to the game against Fredonia.
With the smell of roses in the air and the taste of a conference championship on their tongues, the Lady Phantoms came out on fire against Fredonia. With a huge 25- point second quarter and 23- point third quarter, the Phantoms dismantled the Lynx 60-23. Madison Berry led all scorers with 21 points. Tiffany Kerr had a nice game with 19 points, and Miriam Bankston was big with 14 points and 15 rebounds.
"It was by far our best game of the season," Lopez said.
The Lady Phantoms finished the regular season with a record of 15-7 overall, 7-1 in conference. Also noteworthy, the Lady Phantoms junior varsity (JV) squad went undeafeated with a record of 10-0. The 1A North Region Tournament will be held in Williams on Feb. 5-6. Four out of the eight teams will qualify for the state tournament from the 1A North Region. The first round of the tournament is especially important as a win automatically qualifies a team for the state tournament. The coin flip to determine first and second seeds will be on Wednesday. The Lady Phantoms will have to wait until then to find out who they will play in the first round game on Friday.
More like this story