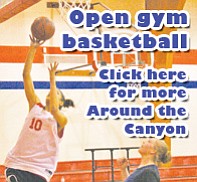 Originally Published: February 15, 2010 1:31 p.m.
Open gym basketball
Open gym basketball is held each Sunday at the Grand Canyon School from 7-9 p.m. Individuals who wish to participate must be over 16-years-old and wear non-marking athletic shoes. For the program to continue, officials advise that all rules of the Grand Canyon Recreation Center and the Grand Canyon School be followed at all times.
National Parks documentary to screen at Rec Center
The Grand Canyon Recreation Center will screen the final installment of Ken Burns "The National Parks: America's Best Idea" tonight. Refreshments will be provided for the screening. Every episode of the acclaimed documentary screened at the rec center. Screening began in January and will conclude tonight.
Japanese Sword Class
Falling Leaf Dojo offers a traditional Japanese Sword class on Thursdays at the Grand Canyon. Learn discipline of the mind and body while wielding the Samurai Katana of the Japanese warrior class. Classes meet from 7-8 p.m. at the rec center for ages 16-years and older. Registration is $30.
Call Luis Garcia at (928) 606-6142 or e-mail him at m1a1lg@hotmail.com for more information. Discount rates are offered for families.
More like this story