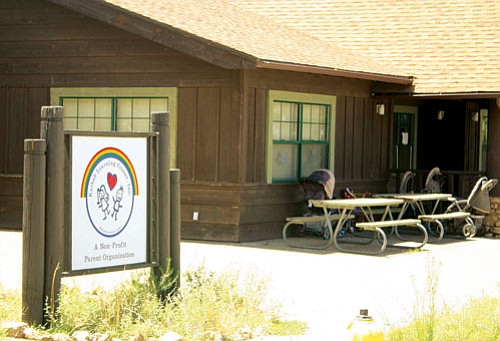 Originally Published: February 16, 2010 1:10 p.m.
GRAND CANYON, Ariz. - Fundraisers have proven to be a good thing for administrators at the Kaibab Learning Center. Two recent fundraisers have been deemed largely successful for the area school, including an Usborne Book fundraiser that netted $400 in free books. The center also held a winter festival at the Grand Canyon Recreation Center with proceeds going toward the school's new shift to a Montessori-based curriculum.
Jeanne Yost, curriculum director with the Kaibab Learning Center, said turnout for the recent winter festival was wonderful.
"It was an amazing turnout. We had a bunch of different booths that were run by volunteers and lots of activities for the kids to do. A lot of people donated all of their proceeds to Kaibab and we made close to $2,000. That, and along with other fundraisers we've done this year, is enough to get us started on our Montessori program."
Yost said two teachers will be enrolled through an online Montessori program that will teach them Montessori educational philosophies, skills for teaching, and take them through each portion of the Montessori curriculum. Money from the fundraisers helped pay for the certification training, Yost said.
"I had researched all of the preschool programs out there and we came down to a few that were really well respected and gave a lot of teacher guidance," Yost said. "We wanted a really strong math focus and a really strong reading focus and we also wanted something that we could use at the center from birth to 6-years-old. North American Montessori Center was one of those."
Books from a recent Usborne fundraiser were also recently acquired for certain age groups at the center.
"Rebecca Dion is a parent and she has volunteered to do these book fairs for us," Yost said. "We got $400 in free books from our last fair. We also raised money. This time we were raising money for curriculum. She's planning another book sale in the spring. With our $400 in free books, this time we focused on the birth to three age group. We got a lot of board books and good supplies for those ages."
Officials at the center have also begun work on a new offering that would help parents educate their children at home. A Parent Resource Library will be available for parents to read while they wait to pick up their children or for parents to "check out" and bring home to read.
"That's a project that we are planning right now," Yost said. "We're going to be purchasing some Montessori Parenting Books, as well as books that will help parents with beginning reading and math skills the Montessori way. We're also going to have some general parenting titles. We're also looking for book donations from the community."
Anyone who has parenting books they wish to donate can bring them to the center, where they will be included in the library, Yost said.
"We've already started collecting them. We have a wish list on Amazon.com," Yost said, adding that the library should be available for parents soon.
"Within a month we expect to have some titles out there and we will keep building on it," Yost said.
It's been a busy year for administrators at the center, who welcomed new director Richard Miller on board last month. Last year, center officials were recently awarded a Quality First grant, totaling $15,000 a year. Money from the grant will be used for equipment, teacher training, and other areas specified in the grant. The center will also host an AmeriCorps volunteer, officials said. More information on the Kaibab Learning Center can be found online at www.kaibablearningcenter.blogspot.com or by calling (928) 638-6333. Spots are currently available for anyone who wants to enroll their children at the center.