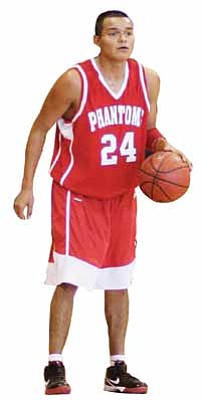 Originally Published: January 5, 2010 1:20 p.m.
GRAND CANYON, Ariz. - Although the Phantoms couldn't find a way to win any of their five games in the holiday tournament at Tonopah High School last week, they remain positive.
"We actually got better as a team this week," said coach Greg Walker. "Hopefully, our experience here will help us during the rest of our regular season games."
The Phantoms played five games from December 28-30. On Dec. 28 they took on Phoenix Christian, taking the loss in the game with a final score of Phoenix Christian 91, Phantoms 27. Daniel Celis led the team with eight points against one of the top teams in 2A. The boys went on to take on Tonopah the same day, taking the loss with a final score of Tonopah 66, Phantoms 51. Daniel Celis had a season high with 23 points against another tough 2A school. The Phantoms led at halftime, playing great basketball, but ran out of gas down the stretch and could not complete the win.
On Dec. 29 Grand Canyon faced off against Arizona Lutheran Academy, taking the loss with a final score of Arizona Lutheran 62, Phantoms 30. Daniel Celis had nine points against another strong 2A opponent. The same day the boys took on Westwind Prep, losing with a final score of Westwind 85, Phantoms 24. The Phantoms struggled mightily against the eventual winners of the tournament and the top-ranked 2A team in the state. Andrew Araiza led the effort with 11 points. The boys ended the tournament with their final game against San Tan Foothills, taking the loss with a final score of San Tan Foothills 45, Phantoms 30. In their final game of the tourney, the Phantoms struggled to score. The 14 points by Daniel Celis wasn't nearly enough to carry the overmatched Phantoms.
The Phantoms couldn't expect too much more from their team as they faced off against much bigger teams from 2A and 3A schools.
Assistant Coach Silas Aiken said, "Our effort and execution was as good as it has been all season. We were just overmatched most of the time. It's hard to remain positive when you are losing, but our guys are finding a way to focus on the positive things."
The Phantoms fall to 1-12 overall, 1-2 in conference. Their next home game is Saturday against Ash Fork. Game times are as follows: JV girls play at 1 p.m., JV boys play at 2:30 p.m., varsity girls play at 4 p.m. and the varsity boys play at 5:30 p.m.
(Editor's Note: Phantoms Assistant Coach Silas Aiken contributed to this report.)
More like this story