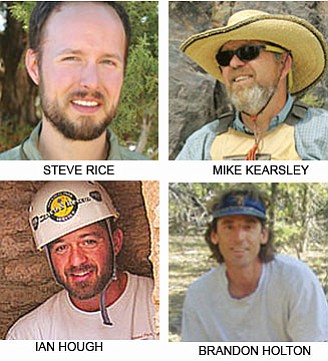 Originally Published: January 12, 2010 noon
GRAND CANYON, Ariz. - The popular Ranger Lecture Series, which first began last year, returns in 2010 with another exciting lineup of speakers. The series, called Conversations on the Edge, is offered through a partnership with the Grand Canyon Association, the Grand Canyon National Park and Northern Arizona University (NAU).
Allyson Mathis, science and education outreach coordinator for the National Park Service (NPS) at Grand Canyon, said the idea for the ranger lecture series began as an offshoot of the Community Lecture Series provided by the Grand Canyon Association and various other partners.
"It was actually Helen Ranney's idea from the Grand Canyon Association. They've been doing the community lecture series for a number of years, focusing on kind of the Canyon country in general, and the idea was (which we loved) to get science and resource management staff talking directly to the community of northern Arizona, and of course in partnership with Cline Library," Mathis said. "It's the first time Grand Canyon Association has had a lecture series focused on Grand Canyon National Park. With all the lectures being given by park staff, explaining the jobs that they do, to preserve and protect the Grand Canyon and how their work relates to the NPS mission."
Speakers this year will include Archeologist Ian Hough, Vegetation Mapping Coordinator Mike Kearsley, Hydrologist Steve Rice and Wildlife/Human Interactions Biologist Brandon Holton. All lectures will be held at NAU's Cline Library, located at the intersection of Knoles Drive and McCreary Road on the campus of NAU. Parking for the lectures can be found west of the library in P13 along Riordan Road. Lectures are free of charge and open to anyone.
"We chose our speakers this year and last year with the idea to try and encompass some of the breadth that this division does in resource management," Mathis said. "We tried to get the social, cultural with Ian Hough, who is one of the vanishing treasures archaeologists here at the park, which is the ruins preservation program and he is the acting cultural resources program manager right now. In Hydrology there has been a lot of work going on right now in the park's native waters, a huge project has been to make a detailed vegetation map of the Grand Canyon, and then Brandon Holton has been here a little over a year, nearly a year and half, on the mountain lion research, so we have a good cross section on a lot of the work that we do."
Mathis added that she thinks the turnout for the 2010 lecture series will be very high.
"All of these are timely. Archaeology tends to bring in a lot of people. Mountain lions bring in people as well. These are areas where there are current projects going on, where we're learning stuff literally every day, and the idea is to have the people that are going out and doing the research, tracking the mountain lions, doing the vegetation maps, etc., talking about their work. It's coming directly from the people doing the work."
Hough will kick off the series Feb. 3 with his lecture titled "Extreme Cultural Landscapes: New Archeological Research in Grand Canyon National Park" from 7-8:30 p.m. On March 3, from 7-8:30 p.m., Kearsley will offer his lecture, "Mapping the Green: Vegetation Mapping at Grand Canyon." "Native Waters: Springs and Seeps of Grand Canyon National Park" will be hosted by Rice April 7 from 7-8:30 p.m. Holton will offer his lecture, "The Canyon's Lions: Mountain Lion Ecology Research in Grand Canyon National Park" on May 5 from 7-8:30 p.m.
"One of the ideas of what we're trying to do in science and resource management is get the word out to various publics about what we actually do, because a lot of visitors won't necessarily see a vegetation restoration program," Mathis said. "They won't necessarily know that we have mountain lions with GPS collars on them and we're tracking them and downloading the data. So the idea is to try and get this behind the scenes work that the park service does and talk about them."
Mathis also said that she is currently working on offering the lecture series at the south rim.
"We're hoping to put that into play this year. We don't have a schedule for that yet, but we would like to do that here as well as we do in Flagstaff," Mathis said.
Helen Ranney, spokesperson for the Grand Canyon Association, said that it has been a pleasure to work with employees of the national park.
"This is a really special lecture series because it is park staff," she said. "We're really happy to bring the issues and research of the park to the stakeholders in the community of Flagstaff."
Lecture videos can be seen online on YouTube. A link to the videos, as well as more information on the lectures, can be found at www.grandcanyon.org. Roughly 225 people attended one of the lectures last year, Ranney said.
"Obviously there is an interest," she said. "We would like to have them up at the South Rim, too. A lot of these speakers are out in the field and we have to work around their schedules."
More like this story