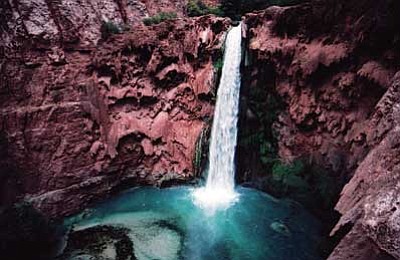 Originally Published: July 8, 2010 11:34 a.m.
FLAGSTAFF, Ariz. - On June 30 at about 11:30 a.m. the Coconino County Sheriff's Office received the report of a deceased individual in the area of Mooney Falls at the bottom of Havasupai Canyon. Upon his arrival, a Coconino County Sheriff's Detective interviewed witnesses and learned that 32-year-old Michael Allen of Ogden, Utah was on a camping trip with family members and friends.
According to witness Mr. Allen was swimming in a pool located at the top of Mooney Falls, went under the water and did not resurface. The victim went over the falls and travelled down for a distance of approximately 200 feet. Allen's body was washed down creek from Mooney Falls for a distance of about 50 to 100 yards, at which point it came to rest on the bank.
Detectives are investigating the possibility that Allen for some unknown reason became unconscious while in the pool or got hung up on some debris under the water. The Arizona Department of Public Safety Air Rescue Helicopter transported the detective to the scene and recovered the victim's body transporting it to Hill Top. Detectives and the Coconino County Medical Examiner will continue this investigation.