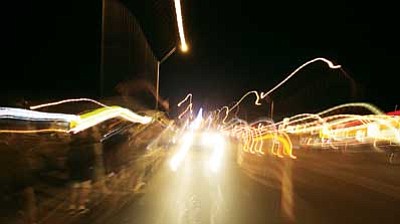 Originally Published: July 13, 2010 1:02 p.m.
I would like to take a moment to thank the Chamber and the entire community for a very enjoyable Fourth of July celebration. An incredible amount of work went into preparation for the parade and concert. The entire community worked together to celebrate the birth of our great nation. The community and our visitors from around the world enjoyed the 30 entries in the light parade. My message is for all of you to get involved. More bodies decrease the workload immensely and it is fun to work alongside our dedicated Chamber members, fellow residents, and business leaders, especially when the proceeds of the benefit come back to improve our community.
It's been more than three months since we held our first Town Council Meeting. I heard from many folks at the Fourth of July festivities and many are upset that the Tusayan Town Council has not moved forward with any kind of a housing solution.
I would like to set the record straight. The council members have all worked diligently, donating our time and energy in getting the town government set up. We have not been approached by anyone regarding a housing project and we have had a full plate with setting up policies, regulations, resolutions, and ordinances. The work has been intense but it is clear that we now need to work diligently towards creating truly affordable community housing.
After almost 100 days since incorporation, there has been no proposal brought forth of promised housing as a result of your vote for incorporation. The entire Tusayan Town Council is in favor of creating an affordable housing solution and the creation of building a sense of community by giving you the opportunity to own your own homes. No proposal has been presented to us for our consideration.
We cannot go to the developers. They need to make the effort to bring a proposal to the table. What we can do as a Town Council is to pursue the only option, which currently lies before us. We care about you as the heart and soul of our small community.
I have been in contact with U.S. Forest Service officials and have identified two distinct and very appropriate locations for home sites. Through the Town Site act we can acquire USFS land upon which homes and apartments can be constructed. The land would be available for up to 99-year leases and this would qualify for bank loans and the actual homes would be owned by you. The town could also own and subsidize apartments creating other affordable housing opportunities that would not be tied to your employment.
The sites we have been looking at are adjacent to already established residential zones. Utilities and roads, already disturbed USFS land, and economic feasibility makes the acquisition of forest land a very viable option for us to provide affordable housing for you and for the entire community. We have no other proposals being presented and so this option could be the best and quickest solution to create affordable housing.
The Tusayan Town Council may want to create a town park but we have not forgotten the prime moving force behind the incorporation effort. The town park is important, but in no way decreases our desire, as a community, to work diligently towards a housing solution. We can have both. They are both desirable and financially attainable.
If privately owned housing would have been available as an option 30 years ago we would be living in a very different town. We could have folks like Don Keil as productive semi-retired members of our community and not see them move away once they are no longer employed locally. We miss you, Don and Karen.
I see that this is truly a beginning for residents to have an opportunity that Tusayan has never really had, considering its limited land base. The Tusayan Town Council plans to hold town hall meetings in the near future to further explore all options and to gather input and ideas from the Tusayan community. We should set the date and time for the first town hall meeting this evening at our July 14 6 p.m. meeting.
I am very happy to finally be moving forward on the single most important issue facing Tusayan. I am away on family business, but will attend the Wednesday regular town council evening meeting by phone. Please get involved and share your visions. We are a small community and we will listen and respond and work together to see your dreams realized.
More like this story