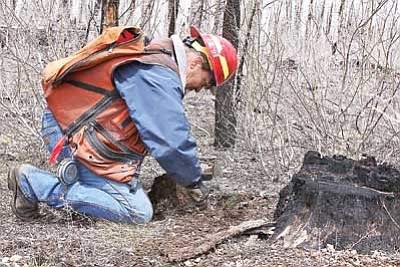 Originally Published: June 1, 2010 1:10 p.m.
FREDONIA, Ariz. - Despite heavy snow accumulations and strong spring winds, crews working with the North Kaibab Ranger District of the Kaibab National Forest have finished replanting about 900 acres that were moderately to severely burned during the 2006 Warm Fire.
This year's replanting effort combines with 1,600 acres replanted in 2008 for a total of 2,500 acres to date that have been replanted as part of the Warm Fire Restoration Project. The project calls for the replanting of 10,000 acres in all, and the district plans to plant another 300 acres in the spring of 2011.
The prevalence of standing dead trees across the landscape raised safety concerns, especially during periods of high wind, and a heavy snow season pushed back planting dates from April into late May. Despite challenging weather conditions, crews planted about 246,000 ponderosa pine and nearly 7,000 Douglas fir seedlings in an effort to accelerate the process of reforestation.
Replanting is a high priority for a number of reasons, said North Kaibab Silviculturist Garry Domis.
"There are really positive benefits to replanting, such as maintaining the watershed through soil stabilization, providing wildlife habitat and providing forest products into the future," Domis said.
The planting work was funded by a $140,000 grant from the National Forest Foundation, the official nonprofit partner of the USDA Forest Service. Much of the grant money was donated to National Forest Foundation by the Salt River Project Trees for Change program. Through Trees for Change, the Phoenix-based utility provides matching contributions for customer monetary donations.
For additional information on the North Kaibab Ranger District, please contact Patrick Lair, Public Affairs Specialist, at (928) 643-8172.
More like this story